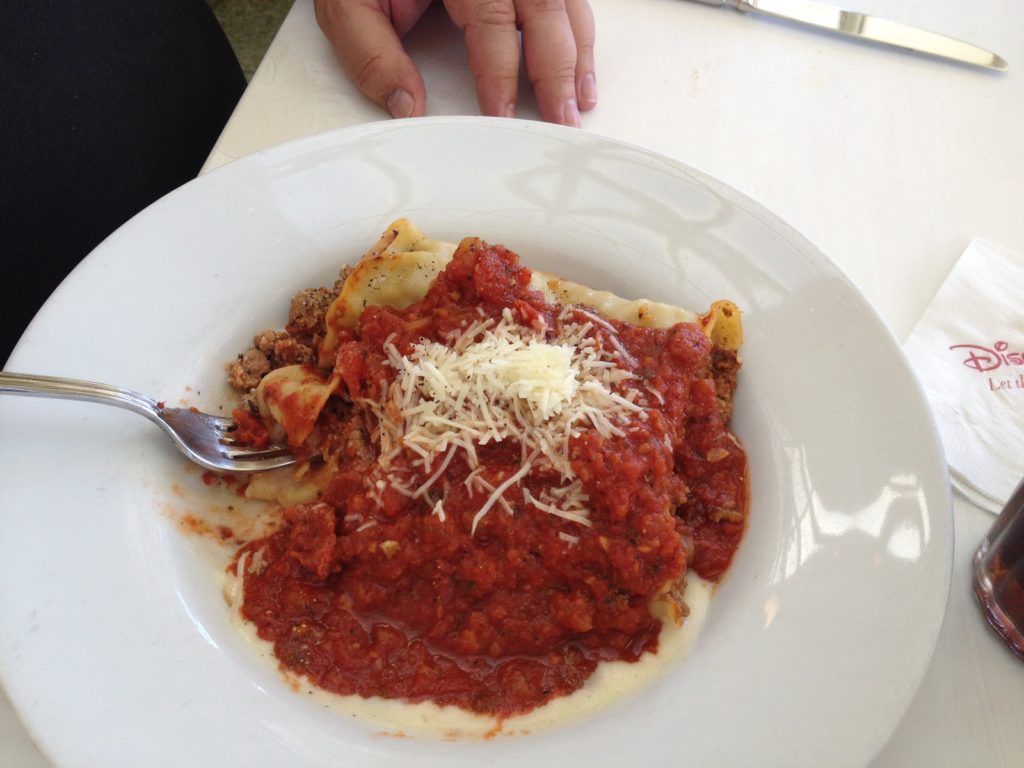 Switch Lunch and Dinner
Most of us eat the same way on vacation as we do at home. We eat a light lunch meal and a bigger dinner (unless you are dieting). The table service restaurants are usually more crowded at dinner than they are during lunch. (Remember, lunch is considered to be before 4pm at most table service restaurants.) Several restaurants also have a dinner menu that is more expensive.
If you switch things around and eat the larger meal for your lunch, you can work that food off in the parks during the rest of the day and you may have a better chance of getting a difficult restaurant reservation. You may save money at most locations, because the menu may be different as well.
Dine During Off Hours
Most of the table service and quick service restaurants get crowded around the standard mealtimes. Plan your lunch and dinner either early or late. This will help when dealing with crowds and may help you get reservations at a popular restaurant you want to eat at.
Book an Early Breakfast or a Late Dinner
An early character breakfast will allow you to see the park in a whole new light. (Of course, you will not be able to go on any attractions at those early times, though.) You can do the same thing for dinner. Check to see what time the park you will be visiting closes and book the latest reservation possible. Walking through the parks without being surrounded by a sea of people is something that is unique and you will enjoy. If you are at Magic Kingdom later than the closing time, maybe you will get to see the "Kiss Goodnight".
Save Room For Dessert
How can you NOT enjoy a few desserts at the "Happiest Place On Earth"? Everywhere you turn, there is a dessert that can be classified as "evil". It is not all about the chocolate, either. You can find many sophisticated desserts without chocolate that will more than satisfy your sweet tooth. This includes items with no sugar at all. TIP: if you stand up while eating these desserts, all of the calories flow right out of your feet and into the ground.
Split Your Entrées
My husband and I love to share our meals. We get to explore and try each dish. You can ask your server to bring you a couple of extra plates, if you want. This will allow you to split the entrées that you order between the two of you or everyone in your party. There are so many unique dishes at the restaurants that you are going to have a hard time choosing what you want. If you split your orders, everyone gets to try everything and it is a great way to save money. (All-you-care-to-eat, buffets, etc., are excluded.)
Do Not Forget The Resort Restaurants
When most people think of Disney, they think of the four main theme parks. When they plan a Disney vacation, they plan their time in the parks. Some of the best restaurants are located in the Disney Resort hotels. I think the resorts have the best quick service restaurants. They have more options.
Try Something Different
As difficult as it can be to change from a comfortable, good restaurant you already experienced and know well, Walt Disney World has well over 100 restaurants and all of them are unique. Try to step out of your comfort zone and try something that you would not be able to get at home. Look up the reviews on TripAdvisor, but take the individual reviews with a grain of salt. It is best to look at the reviews as a whole in order to weed out the less-than-genuine reviews and the people who are jaded. There is one way to find out on your own……just go for it!
Our Facebook group, All Access Disney Group, voted for their favorite table service restaurants in each Walt Disney World theme park, hotel and character restaurant. Click here to see the list.
For tips on booking successful dining reservations, click here. For the top quick service restaurants, click here.