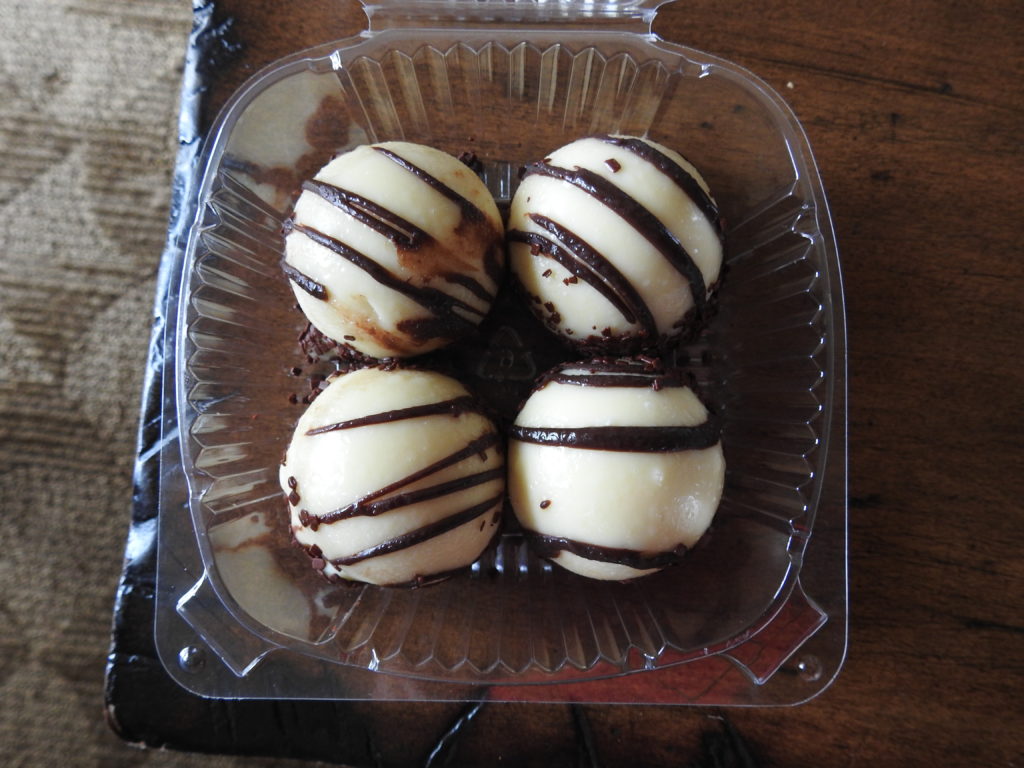 Walt Disney World is famous for its large variety of food and it's not just about food at table service restaurants. Some of the most popular food people constantly talk about and crave are snacks and/or unique food to eat on-the-go. Some of the favorites are Dole Whips, Turkey Legs, funnel cakes, Mickey pretzels and Mickey Ice Cream Bars. Here are five of the most unknown foods you can try at Walt Disney World.
Croissant Doughnut (AKA: Cronut)
Walt Disney World calls the Cronut a Croissant Doughnut due to copyright laws. Guests can pick this delicious goody up at the Refreshment Port by the Canadian pavilion. They are made-to-order! Doughnut batter is layered to resemble the flaky texture of a croissant and then deep fried while you wait. The Cronut is then rolled in cinnamon sugar and served hot. This treat is large enough to share, but some may not want to because it tastes that goo! The Croissant Doughnut is a culinary delight everyone should try at least once!
Asian Food Take-Out (Not in Epcot)
Some would not think of getting take-out while on vacation at the Happiest Place on Earth where the food options are endless, but maybe you need a night to rest after a few days of being on the GO GO GO!! Maybe you cannot get reservations at Yak & Yeti restaurant? Well, head on over to Yak & Yeti Local Foods Café in Asia at Animal Kingdom.
You have your choice of fried and sauced honey chicken with broccoli or sweet and sour chicken with carrots and peppers. Both entrées are served with steamed white rice and traditional sauces. Be forewarned that they no longer provide fortune cookies. So, if you want something sweet after you eat dinner, be sure to pick something up on the way back. The food is delicious!
Brioche Ice Cream Sandwich
It is not what you think! If you are from Maine, you are picturing a "Sea Dog Biscuit". Most people hear the title and think it is ice cream in between two cookies, right? L'Artisan des Glaces in the France pavilion in Epcot threw a wrench into what most think were an obvious snack. The Croque Glacé is a warm brioche ice cream sandwich. Brioche is a sweet French bread. The bread is sliced open and filled with a large scoop of your favorite ice cream. The sandwich is placed in a special press to warm the bun and then it is topped with your choice of chocolate or raspberry sauce. Different? Yup! And very tasty!
Zebra Domes
These are found at the Animal Kingdom Lodge's The Mara, Boma and Kidani's gift shop. Zebra Domes are an unusual dessert that is exclusive to these locations ONLY. These small desserts are a creamy mousse over a shortbread wafer. The vanilla mousse is flavored with another mousse made with Amarula Cream Liquer, which is derived from the African Marula tree. These tiny bites from heaven are then drizzled with chocolate syrup to resemble the animal for which they are named……..Zebra!
The Grey Stuff
You can try the grey stuff for lunch when you order the Master's Cupcake or the brownie dessert at dinner. "The Grey Stuff" is a cookies and cream mousse. It is light and not too sweet. "Try the grey stuff. It's delicious. Don't believe me? Ask the dishes!" ~~Lumiere, Beauty and the Beast