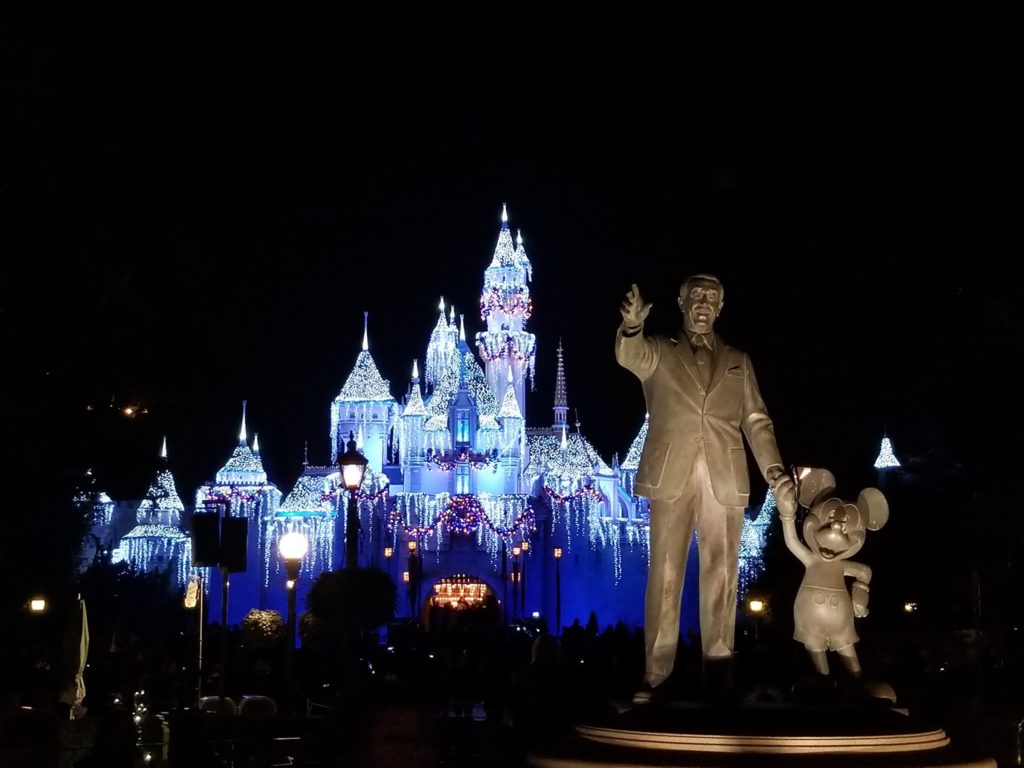 The key to having the most magical Disney experience possible is to plan in advance. While Disneyland is significantly smaller than Walt Disney World, it does not mean that you should take planning lightly. There is definitely some preparing to do when you go to Disneyland!
Good Walking Shoes
While it is true that Disneyland (not including California Adventure Park) can fit into the WDW's Magic Kingdom parking lot, it is still a huge space to cover. It is amazing how HUGE this parking lot is! And, that is not even the biggest. The biggest parking lot is in Epcot!! I recommend you do not bring "new" shoes or sneakers to Disneyland.
While wearing flip flops would be a nightmare for me, I have seen people wearing them, but I do not recommend it. Even wearing the best sneakers with the best arch support does not stop your feet from hurting at the end of the day. I cannot imagine how the few people I see wearing flip flops feel at the end of the day. Yikes! You don't want to miss out on the fireworks, because you are in agony from wearing new shoes, sneakers or flip flops. Break in new shoes or sneakers before you leave home.
Necessary Items To Carry With You
Sunscreen, water and a hat. The California sun is nothing to mess with. In WDW, they have the high humidity to remind us how hot it is. It is very easy to forget how hot it is in the dry California sun. I highly recommend a hat so your head does not cook.
Protect your skin with sunscreen and hydrate, hydrate, hydrate. Nothing worse than ruining your long awaited Disney vacation by having to go to the emergency room due to heat exhaustion or a severe sunburn. Can you say "Sun Poisoning"?! Oh, yes! It does happen!
Time
Take a few days to experience the attractions. Disneyland has 2 parks, Downtown Disney and 3 hotels. I, personally, like to take 4 days to see almost everything plus a few repeats of my favorites. Lines can be very long. They can be especially long during the peak seasons, which are summer, March break, Thanksgiving and Christmas. It's not uncommon to wait 70 minutes for the Haunted Mansion and almost 2 hours for Space Mountain. If you go to Disneyland during off-peak times, you could see most of everything within 3 days.
For example: Radiator Springs in California Adventure can easily take a half day to explore. I love it there. You actually feel like this is where they filmed the actual "Cars" movie. I know you are thinking: "It is a computer generated movie", but trust me. Once you experience it, you will understand.
Hotels
Take your time and look at your hotel options. Coming from a die-hard Disney fan who wants to stay in a Disney hotel as much as possible, this is where I have to accept that Disneyland is not like Walt Disney World. Disneyland does not have as many hotel options and the immediate surroundings of the Disneyland Resort are boulevards with tons of small hotels. It is a lot cheaper to stay off property leaving you more money for souvenirs. Many hotels are Disney "Good Neighbors" hotels.
I stayed at a hotel that was, literally, a 1-minute walk from the east side Disneyland entrance. It was clean and offered a free breakfast. Ironically, the walk is less from the hotel I stayed at to Disneyland and California Adventure versus Disney's Paradise Pier, which was the least expensive Disney hotel at the time of publication. (Unlike WDW, Disneyland does not have buses to transport guests from/to Disney hotels and parks.)
Transportation
There is a shuttle you can pay to bring you from the airport to Disneyland, which also makes other stops at other hotels along the way. Some hotels have airport shuttles, too. Or, you can rent a car! I prefer to pay for a shuttle, because the LA traffic is a nightmare.
Disney Genie Service
Disney Genie is a complimentary and convenient new digital service designed to create your best Disney day at Walt Disney World Resort and Disneyland Resort. Click here to read details about the service.
Food
Take some time to enjoy the food. Disneyland has great restaurants to choose from. To name a few of my favorites: Napa Rose at Grand Californian, Carthay Circle Restaurant at DCA and Blue Bayou at DL. I also recommend you look into the dinner shows. You are able to book dining reservations at DL up to 60 days in advance.
Downtown Disney
There are amazing things to see at Downtown Disney (DTD). My favorite adult spot is Trader Sam's Enchanted Tiki Bar. I know they have a location at the Polynesian in WDW, but the location at DL is fantastic and you must experience it. There are a few amazing restaurants at DTD, too. One restaurant in particular that comes to mind is Ralph Brennan's Jazz Kitchen. The Uva Bar is GREAT!! You can eat, drink and be merry outside right in the middle of DTD!
Tour
I would recommend you consider the "Walk in Walt's Disneyland Footsteps" guided tour, if you enjoy Disney history. It was the only park Walt was there to see being built. The tour lasts about 3 hours and is a truly special and delightful tour. You learn about Walt, learn about some of the classic attractions, you can hear him talking about "his Disneyland" and visit some classic attractions.
This tour gives you the opportunity to see all of this through Walt's eyes. The tour ends with a nice lunch. On select tours, you may end up with a surprise visit at the Dream Suite above Pirates of the Caribbean or Walt Disney's original apartment above the fire station.
Other Attractions
Disney is not just about rides. The Sleeping Beauty Castle is 1/3 the height of the Cinderella Castle at WDW, but there is something hidden inside the Sleeping Beauty Castle that is a must-see. There's a stunning walk-through with dioramas telling the story of Aurora.
Some of my other favorites: Storybook Land Canal Boats, Alice in Wonderland, Casey Junior Circus Train, Mickey's House in Toontown and it's a small world's clock. Just stop and watch it turn on the hour. Have your video camera ready! Want to see a video of it? Click here to see what you can see in person!!
Biggest TIP to whoever frequents
Walt Disney World
Just because WDW has duplicate rides as Disneyland, doesn't mean they are the same. The following rides are actually BETTER at Disneyland or do not even exist at WDW: Big Thunder Mountain, Space Mountain, Winnie the Pooh, it's a small world, Pirates of the Caribbean and Indiana Jones Adventure. 
Feel free to go to our contact page or our Facebook group to ask any questions!!