"Drinking around the World" was created by guests as a fun thing for themselves to do in the midst of, what can be, a stressful and busy vacation.
Drinking around the world gives adults the opportunity to taste test different beers, wine and/or mixed drinks from all of the respective countries in Epcot's World Showcase as they make their way around world (showcase). If you do not want a beer or cocktail from a country, there are other vendors ALL ALONG THE WAY with beer made in the United States.
Mexico
Starting to the left of World Showcase, stop at the kiosk in Mexico for a margarita. On a hot day, the Fiesta margarita is a refreshing, frozen cocktail. Or, you can go inside of the Mexico pavilion for a drink at La Cava del Tequila. You can share a tequila flight or have one all to yourself. There is also ice cold beer to quench the beer lover's thirst.
It is best to start this endeavor out right in order to ensure a good day and no hangover tomorrow. Get a glass of water to chase your alcoholic beverage. Drinking water is also extremely important simply, because of Florida's heat and all of the walking. No one wants to ruin their vacation by having to go to the hospital due to heat exhaustion.
Norway
Aaaaaahhhhh…….beer. There are some places that have specialty drinks, but there are some countries that beer is the way to go. They know how to get it done. Grab a Carlsberg Beer from the drink cart at the front of the pavilion. This light-bodied Danish pilsner is a unique beer that is sure to be a favorite of even the pickiest beer drinkers.
China
Stop at the Joy of Tea stand located along the World Showcase Lagoon. While I am not a fan of peaches or cantaloupe, I heard they have a great "Peach Snap", which is Peachtree Schnapps and OJ; And, the Canto Loopy, which is vodka and cantaloupe juice. If either of those are not your cup of tea, go with the Tipsy Ducks in Love. The Tipsy Ducks in Love has a serving of bourbon in an iced coffee with whipped cream on top. Want a beer? There is beer in China, too! It could be time for lunch? Order a snack at the same location. The egg rolls are tasty.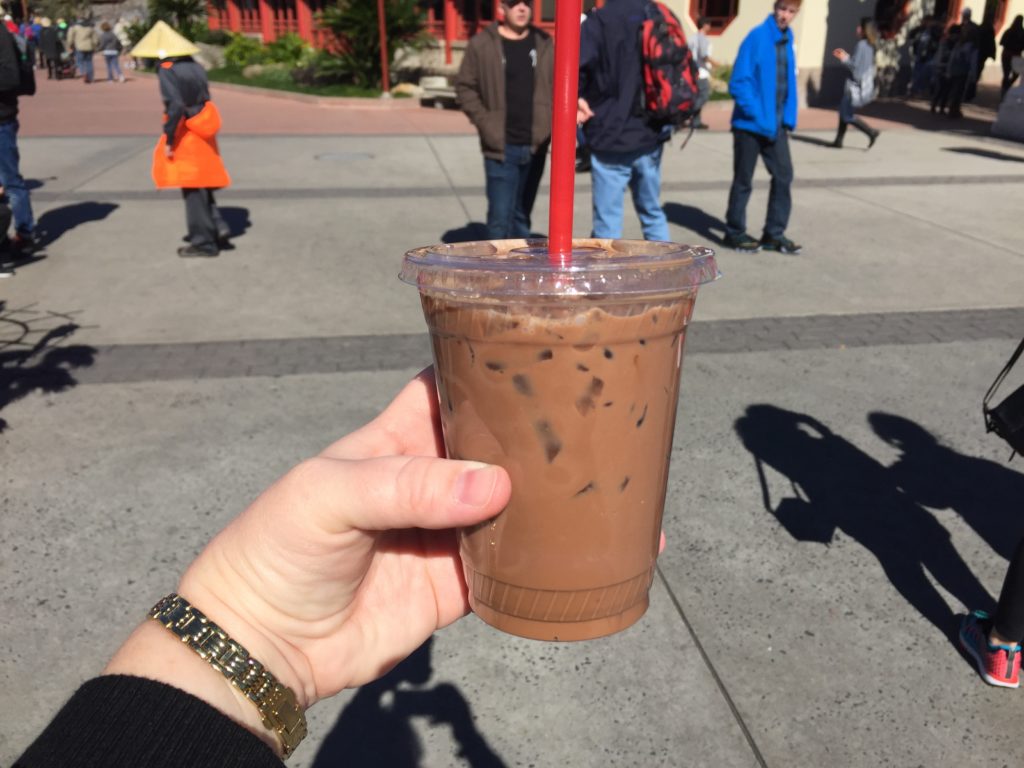 Germany
Well, going to Germany and not having a beer is like walking into a beer factory for a tour and not having a beer. Stop for the Radeberger Pilsner (and water). This beer is located inside the pavilion building. The Radeberger is a nice, light pilsner. For good ale, try the Hovel. Now is the BEST time for everyone to grab a pretzel to put in their bellies to help soak up the alcohol and chase that pretzel with WATER!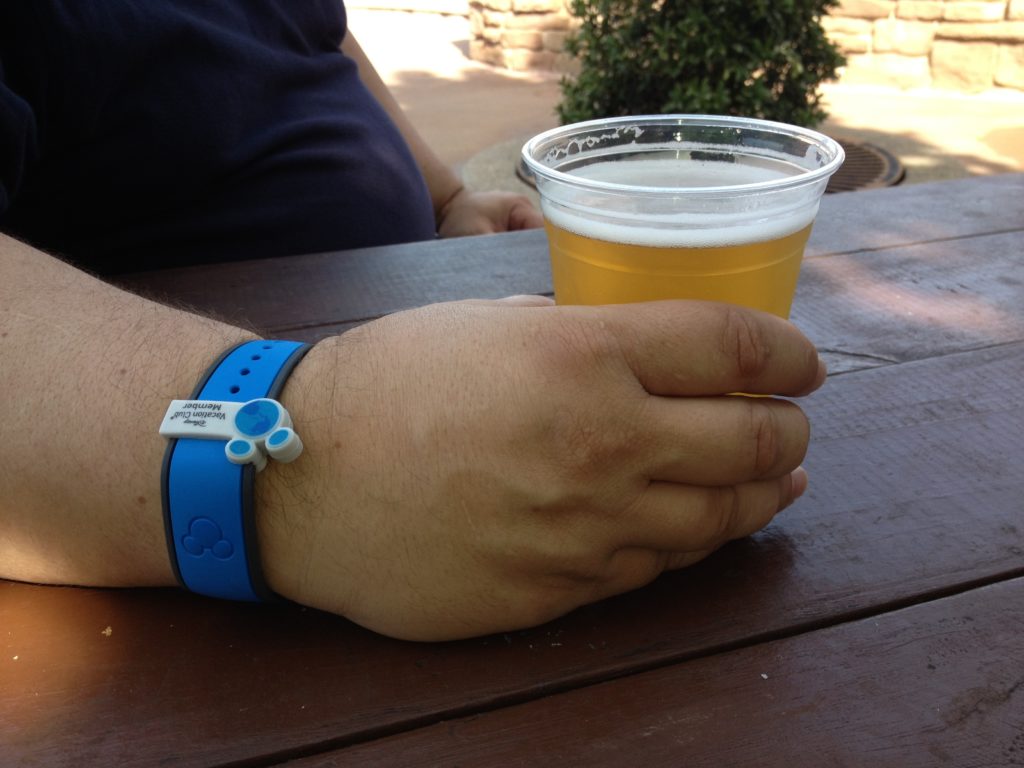 Italy
If you have not had lunch or snacks any time recently, stop for lunch. Get a pizza! Nothing better than pizza to soak up the alcohol in your belly so you can keep trucking on around the world. As far as what is best to drink in Italy……..Well, just like you should not go to Germany and not have a beer, you should not go to Italy and not have wine! You can find a large selection of wines in Tutto Gusto Wine Cellar.
I prefer the wine flights so I can try many different wines in one sitting. Just when you think you find your favorite wine, you find another. You can fly bottles of wine home with you. For a mixed drink, the Italian Sangria is refreshing and most popular. It is made with red table wine and fruit. Yes, they have beer, too. The beer of choice for many is the Birra Moretti. This Italian lager is light bodied and a little sweet.
United States
Sam Adams is the beer offered in the American Adventure pavilion, but there is a twist. They offer the "seasonal" Sam Adams according to the time of year you are visiting Epcot. It could be Alpine Spring, Summer Ale, Octoberfest or Winter Lager. If beer is not your choice, try a mixed drink!
Japan
Hoping you have been pacing yourself well, drinking water and eating along the way, the alcohol should have minimal impact on you after all the drinking you have done so far. If you have more than you should, maybe it is time to finish drinking around the world some other day. If you are good to go or continuing another day, it is time to stop in the Japan pavilion courtyard at Sake Bar for sake cocktails. For all of you hard-core beer drinkers, try Kirin Ichiban, which is a light bodied beer or the Sapporo, which is a slightly darker lager.
Morocco
There are not as many options in Morocco as the other countries. You can grab a Casa Beer, which is a light beer. Now is another great time to rest, enjoy the beer and eat some great food, if you have not had much to eat already.
France
A good beer in the France pavilion is Kronenbourg 1664. For others who do not want a beer, try the Grey Goose Slush. You can get lemon or orange. The lemonade slush is mixed with Grey Goose Citron (lemon flavored vodka), where the orange has Grey Goose orange and Grand Marnier.
United Kingdom
Home to the Rose and Crown Pub, the United Kingdom pavilion is a beer lover's paradise. As I have said before, this is a traditional spot to stop for a beer for my husband and I. We stop here even though we are not "drinking around the world". Stopping here allows us to grab a beer at the kiosk, sit and relax for a while. We prefer Stella Artois. Well, my husband likes all the beers, but I prefer only Stella.
They also have Bass and Harp that many love. Some people have tried Rose and Crown's mixed pints. This is something we have not tried. We do not like to mess with perfection. A mixed pint is a mixture of two different beers or ciders in one pint. And, for the others who do not wish to drink beer, the Rose and Crown has a large selection of cocktails and a full bar of scotches to choose from. I enjoyed a 3-sampler of scotches. And, yes, I did have water.
Canada
The Canada pavilion offers many wonderful selections to end your tour around the world. They have a Moosehead Lager or a Moosehead Lager Light. This beer is a refreshing and light lager. As it is not too strong or heavy, the Moosehead Lager is a perfect end to your Drinking around the World tour. I hope you have reservations at Le Cellier to end your day! If not, it does not hurt to ask them if they have a table available. Le Cellier is still one of the best restaurants to eat at in all of Walt Disney World. Try the Canadian Cheddar Cheese Soup. It is delicious!!
Just Remember
The drinks go down a lot easier when it is hot out. Be sure to take your time, drink water and keep in mind that if you do not do well with mixing beer, wine and cocktails, stick with getting one of the same at each location. My advice is to ask for a glass of water with every drink at the start at each location. If you are starting early, make sure you have a good breakfast and have lunch in the middle of it all.
Eating lots of carbs is best for this type of activity. I also suggest sharing drinks with your significant other or others in your party over 21. This allows you to try other drinks without breaking the bank. We do not need anyone puking on Mickey. So, do us all a favor and drink plenty of water and eat plenty of food while Drinking Around The World (Showcase)!!
This adult activity is for ages 21 and over only. All adults looking to enjoy an alcoholic beverage must have a valid ID for all locations. Drink responsibly and designate a driver ahead of time if you are driving by car and/or not staying at a Disney resort where you would be able to utilize Disney's transportation.