Many people have a few days that they do not go into any Walt Disney World theme park during their stay, but do not want to just hang around the hotel. Here are some ideas that are not in the theme parks.
Resort Fire Pits
Who doesn't love a good bonfire?! The wood-burning smell is one of my favorite smells. What a great way to spend quiet, quality time with friends and/or family. Most resorts hold a nightly fire around sunset. Some of the best places to kickback, relax and toast some marshmallows are at Animal Kingdom Lodge and the Polynesian Resort. They have an unlimited supply of marshmallows! No, seriously, that is just a bonus. You cannot go wrong no matter where you decide to enjoy the great outdoors.
Movie Nights at Resorts
I think Disney thinks of EVERYTHING from every person's situation. It is as if one of them stopped and said to themselves "Self, what if someone just wants to hang at their hotel and watch a movie for the evening"? If this interests you, be sure to ask your reservation cast member if that is an option at the hotel you are reserving. Not all hotels off this relaxing treat.
If it is not an option, check out other resorts that do have that! Resting at the hotel on a blanket on the lawn is a GREAT way to rejuvenate your mind and body before a busy day at the park the next day.
Electrical Water Pageant
The Electrical Water Pageant is held nightly (weather permitting) on the Seven Seas Lagoon and Bay Lake. It has been around since the beginning of Walt Disney World. It inspired the creation of the Main Street Electrical Parade. The electric barges travel from one resort to another and can be viewed from the Polynesian, Contemporary, Grand Floridian and Fort Wilderness Marina.
It is usually performed at nightfall, but times are subject to change. Click here to see the retired Main Street Electrical Parade.
Fireworks
You do not always need a park ticket to see the fireworks at Disney. If you are a Disney Vacation Club member, you can go to the top of Bay Lake Tower to see the fireworks at the Magic Kingdom. If you are not a DVC member, the same show can also be viewed from the Grand Floridian boat dock or Narcoossee's Restaurant, which receives the audio soundtrack so you can enjoy the fireworks synchronized to the music.
You can also take a walk on the path that starts behind the Boardwalk's Atlantic Dance Hall. It goes to the back of Epcot or to Hollywood Studios where you can possibly enjoy the music and possibly catch a glimpse of Epcot's fireworks show or Fantasmic!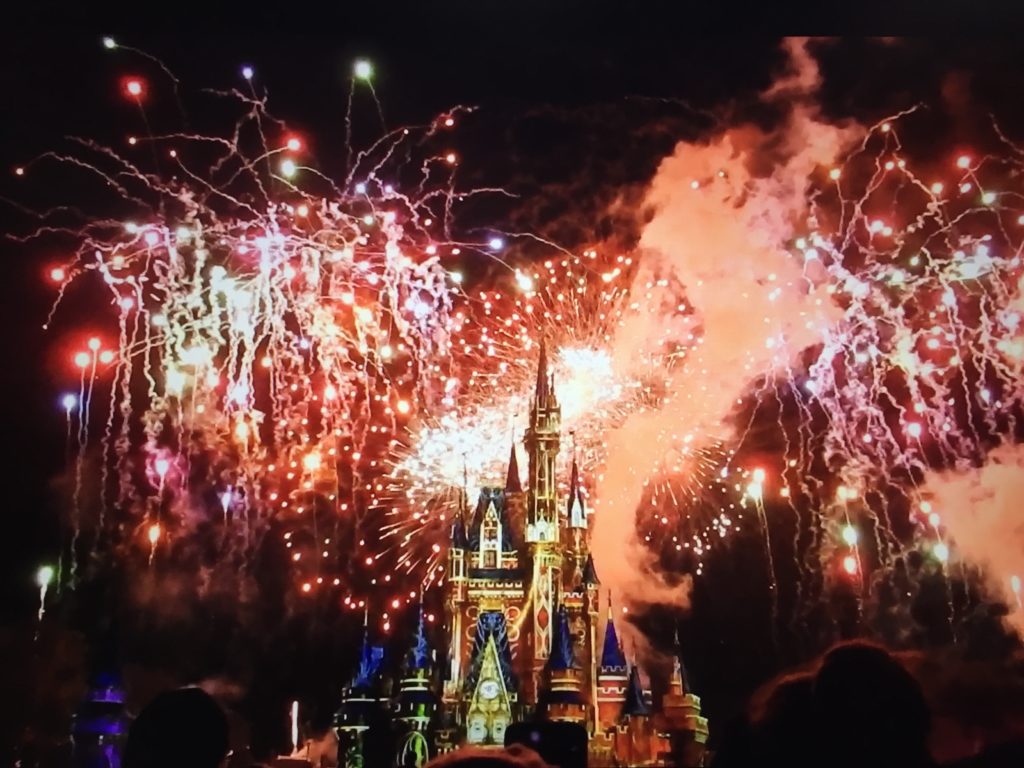 Explore Other Resorts
We take a bus ride or the monorail from a theme park to explore other hotels to determine where we may want to stay on future trips to Walt Disney World. One of our favorite things to do is to take the monorail to the Grand Floridian to see the Christmas decorations. All of Walt Disney World has spectacular decorations, but only this place has a ginger bread house in its lobby that is big enough for cast members to work inside. Kick back and watch a cast member decorate smaller versions of ginger bread houses, too!
Rent A Golf Cart At Fort Wilderness
Anyone over the age of 18 can rent a golf cart to explore the 700 acres of Disney's Fort Wilderness Resort. The 4-person electric carts can be reserved for the day or for the week a year in advance by calling the Outpost at 407-824-2742.
Chip 'N Dale's Campfire Sing-A-Long
Whether you choose to rent a golf cart at Fort Wilderness or not, plan on participating at the Chip 'N Dale's Campfire Sing-A-Long! It is a nightly campfire celebration where the chipmunks will mingle in with the crowd most nights for photos. A Disney campfire just would not be complete without a classic Disney movie under the stars.
Downtime at Poolside with a Cocktail
Grab yourself a lounge chair at poolside and enjoy an alcoholic or non-alcoholic beverage. Lounges can be found in Disney's Moderate and Deluxe resort hotels. I have not experienced every hotel, yet, but so far, my favorite was the outdoor lounge on the side of the pool at Animal Kingdom Lodge. It is also where I tried my first Mai Tai. Yummy!
Free Boat Ride
Take a Disney boat to visit the Epcot hotels. If you get on the boat that runs from Hollywood Studios to Epcot, you can get off at any Epcot resort along the way to explore. You can also take a boat from Port Orleans Riverside to Disney Springs. Remember, you can ride Disney buses without park admission, too.
Disney Springs
This has been my favorite for many, many years. I, actually, go out of my way to ensure a trip to Disney Springs is on our itinerary even though we have theme park tickets. You can easily spend an entire day there. If driving, parking is free! I do not go there to necessarily shop, either. I love to walk around and just….look. One of my favorite things to do is to get a margarita at Dockside Margaritas. I love the smell as you walk by Ghirardelli Soda Fountain and Chocolate Shop. I love to see the live parrots and fake crocodile in front of the Rainforest Café.
It is so cool to be walking around Rainforest Cafe's gift shop while the lights dim. Then the thunder and lightning appear making it feel like you are in a rain forest. Some of the best dining is at Disney Springs. If open, watch the interactive fountains in the Marketplace area. The Lego Imagination Center has a FREE 3,000 square foot outdoor play area. Do not forget to try to score a free piece of chocolate in the Chocolate Shop on the side of Ghirardelli! And, be sure to go to Disney Springs at night, too. The entertainment during the day and at night is great. There is sooooo much to see that I simply cannot list all of it here.
Camping
Maybe take the last night of your stay and go camping instead of staying in the hotel that you already have booked for most of your stay. At Walt Disney World's Fort Wilderness, campgrounds are available for rent. Camping here would not only be fun, but you can also save you some money, because the rates cost less than renting a hotel room. The campsite options range from tents and pop-ups to premium campsites that have full hookups for RVs with electric and water. Extra amenities also include bathroom areas, campfires and transportation to the parks at the Wilderness Lodge bus stop. Plus, you can take a boat ride to some of the parks!
For other ideas that you may not have read about, yet, Click here to see Uncommon Activities at Walt Disney World.