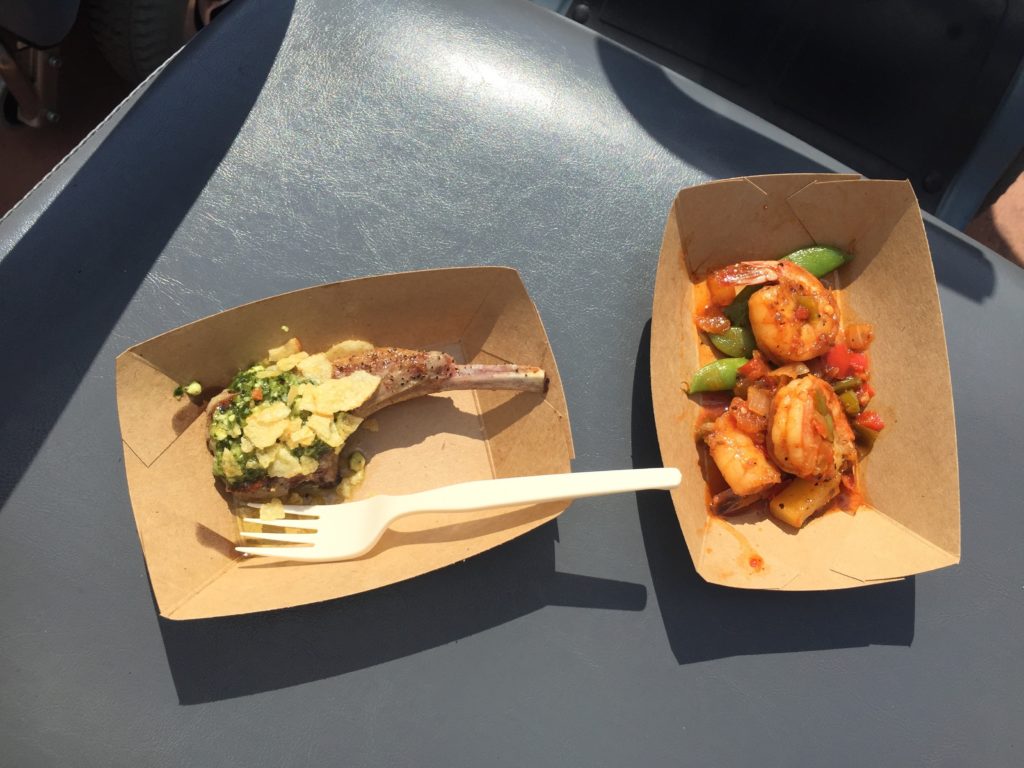 While you could follow the basic list and/or suggestions of snacks to buy with your Disney Dining Plan snack entitlements, there are so many more valuable snacks to choose from that will not only save you money if you planned on buying the snack with cash, but also give you the opportunity to experience a unique/different snack that will not cost you a single penny.
Unless you hear a tip from someone, ask a cast member or play close attention to the signs by looking for the special logo (see below for picture) on the menus at each restaurant and kiosk, you just do not realize the potential! While these items can change, as of right now, these are the most valuable snacks to use your snack entitlements on.
Food & Wine Festival
This has to be the most valuable, as far as I am concerned. The portions are so small and so expensive that this is where you really save the most money. These are the most expensive snacks you can buy with the snack entitlements. So, if you find yourself going to Epcot during the Food & Wine Festival, use your snack entitlements around the World Showcase on food. (Not eligible on alcohol.) 
Dole Whip
These are offered at only 3 locations. All Disney Dining Plans are currently accepted at all locations: the Polynesian Resort, Animal Kingdom and the Magic Kingdom. (**Be sure to check what your Disney Dining Plan covers. Certain plans have changed each year. Some will cover the Dole Whip and some do not.) 
Funnel Cakes
Oh, the joy of a funnel cake. In my opinion, they are big enough to share so save your snack entitlements for other foods and only get one for 2 or 3 people. Enjoy a funnel cake with powdered sugar and/or cinnamon sugar.
Soup
Sunshine Seasons in Epcot or Be Our Guest in the Magic Kingdom
Sushi
California roll and Temari sushi at Kabuki Cafe in Japan, Epcot. A combo of the two is now available, too.
Baked Potato
Baked potato at Liberty Square Market in the Magic Kingdom
Fries
Chili-cheese fries at Pecos in the Magic Kingdom
Chicken
Curry chicken pocket in China in Epcot
Bread
Cheesy pesto bread at the Art of Animation food court 
Baked Goods
Via Napoli (Epcot) for Mini Sicilian Cannoli; Starring Rolls (Hollywood Studios) and/or Kusafiri (Animal Kingdom) for specialty cupcakes; Karamel Kuche (Germany, Epcot) for a variety of delicious baked goods.
Ice Cream
The Plaza Ice Cream Parlor, Magic Kingdom. Sundaes are one of the most expensive snacks on this list. Ice cream cookie sandwiches have recently been added to the menu. The ice cream cookie sandwich can also be found at Sleepy Hollow, Liberty Square in Magic Kingdom.
Coffee
Starbucks, Magic Kingdom–While this is not something I would waste a snack entitlement on, there are many dedicated coffee drinkers who would LOVE to use an entitlement on Starbucks. Huge money saver! All drinks on the Starbucks menu are eligible, including Venti sized Frappuccino.
Must Have
Zebra domes, Animal Kingdom Lodge–I mentioned these in Disney Foods You May Not Know About.  Not many people know about these little gems.  They can be found at The Mara and Boma. 
Pretzels
I have such a LOVE for pretzels. They can be found pretty much anywhere throughout Walt Disney World. Pretzels come in several varieties including salted, Mickey shaped, cream cheese filled or jalapeno cheese flavored.
Keep an eye out on those menus. Look for "sides" at many of these restaurants. That is where you will find the DDP logo. Any snack item that costs more than $4 is a great deal! When in doubt, just ask a cast member if you can use a snack entitlement on something you want.