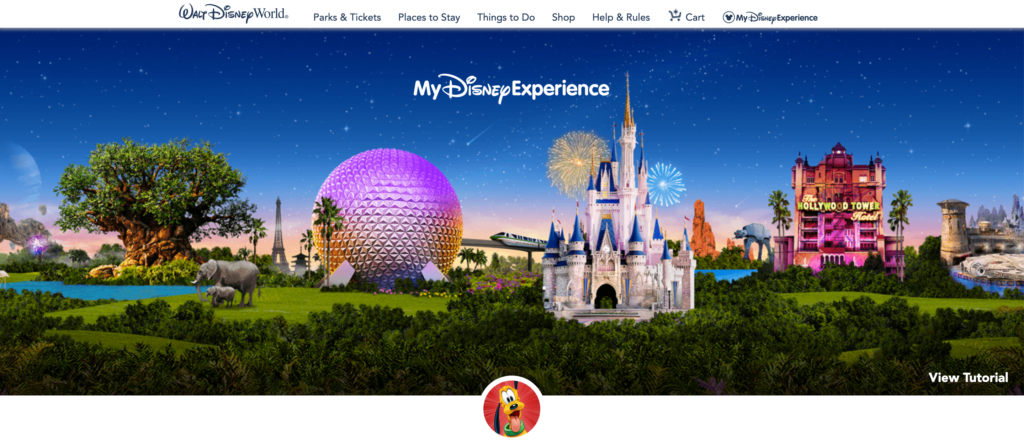 These steps are for those who do not have any MDE accounts at all. If anyone in your vacation party already has an account, how to add them as a friend to your MDE account will be at the bottom.
These instructions are for setup while on a laptop/desktop.
TIP: if you have purchased items on shopdisney.com or have an account with Disney Movie Rewards (now known as Disney Movie Insiders), you already have an account! Simply use that username and password to sign into MDE.
Create My Disney Experience Account
Section A
Step 1: Click here to go to Walt Disney World's site: https://disneyworld.disney.go.com/.
Step 2: Click on MDE on the right side of the page.
Step 3: Click on "Create Account" on the lower left side located under "Don't have a Disney account?"

Step 4: Fill in all the necessary information required to open an account and click "create account". Voila! Your account is now set up.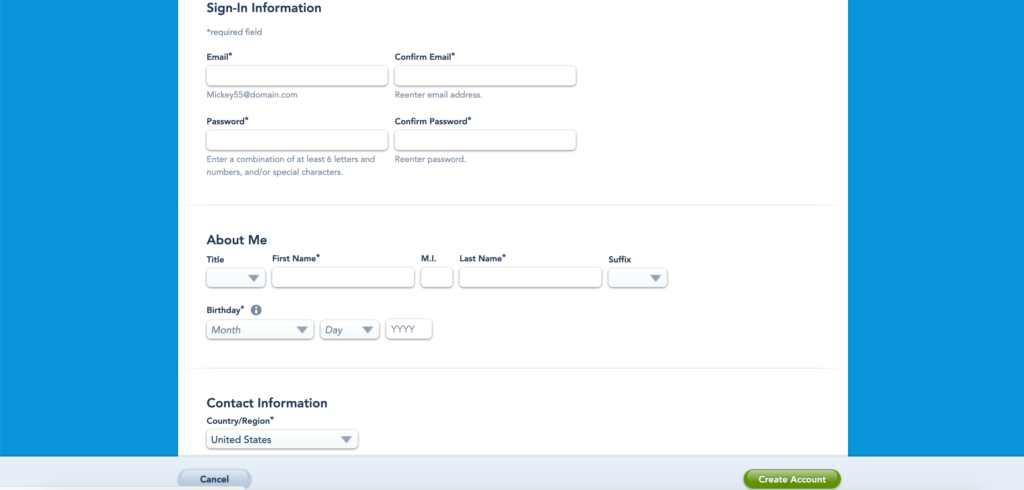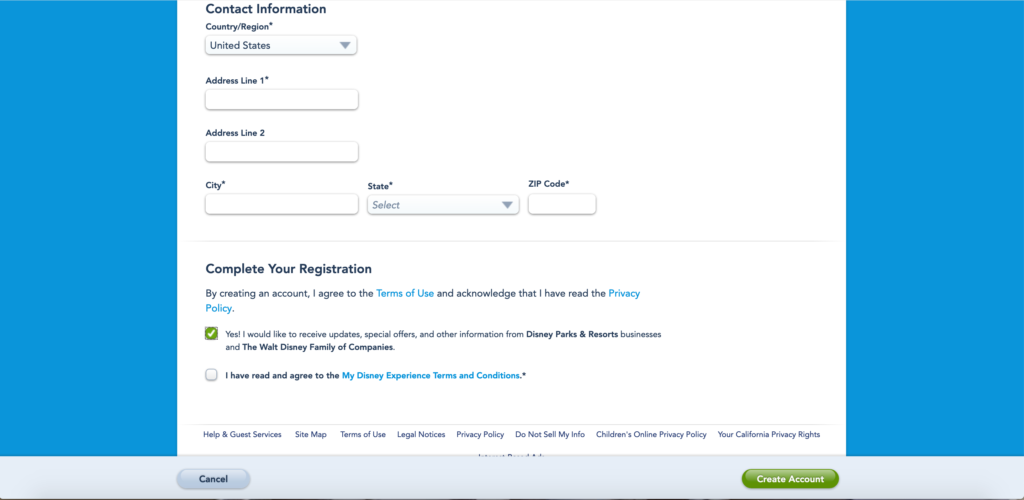 Now we need to go on to the next steps if you decide to purchase Genie+ for everyone you will be traveling with. You need to create profiles for everyone in your group. You are NOT creating a separate account for each person. You are simply creating the person and you will manage their plans.
Adding Friends And Family To MDE
Section B
Step 1: While in the MDE "Plans and Tickets page", scroll over "Family & Friends" on the left and a blue box with "add a guest" will pop up to click. If you cannot find it, go to "My Family & Friends" when you scroll over the "My Disney Experience" at the top right of the page like you did in Section A Step 2.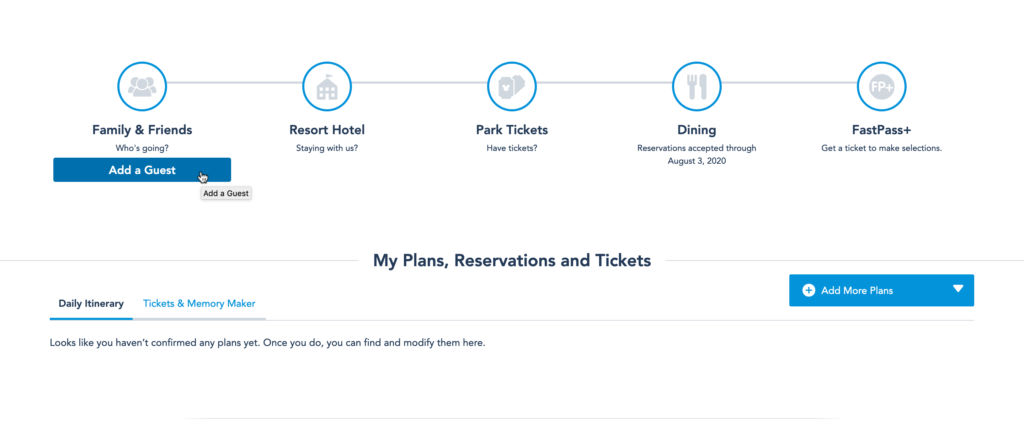 Step 2: There are 3 ways to add a friends/family. You cannot look through connected guests if you have no friends/family connected, yet. So, the first picture below is not an option at that point. For the second picture, you would need their current reservation numbers or emails they use for their MDE account to search that way. The third picture, is showing you how to create each person. You would control all of their plans yourself. Simply follow the prompts and begin adding one person at a time. Tip: For the 3rd picture (creating the person), you only need to know specific age if the member is under 18 years old.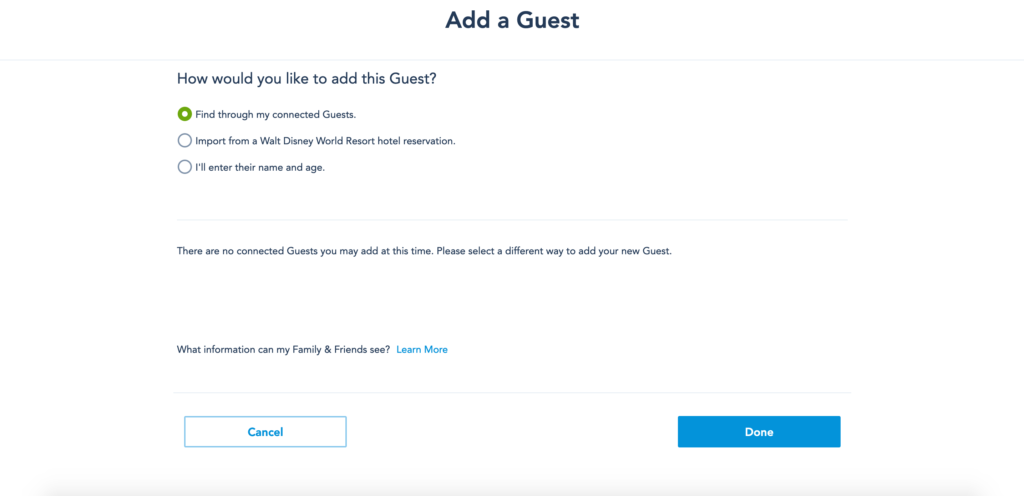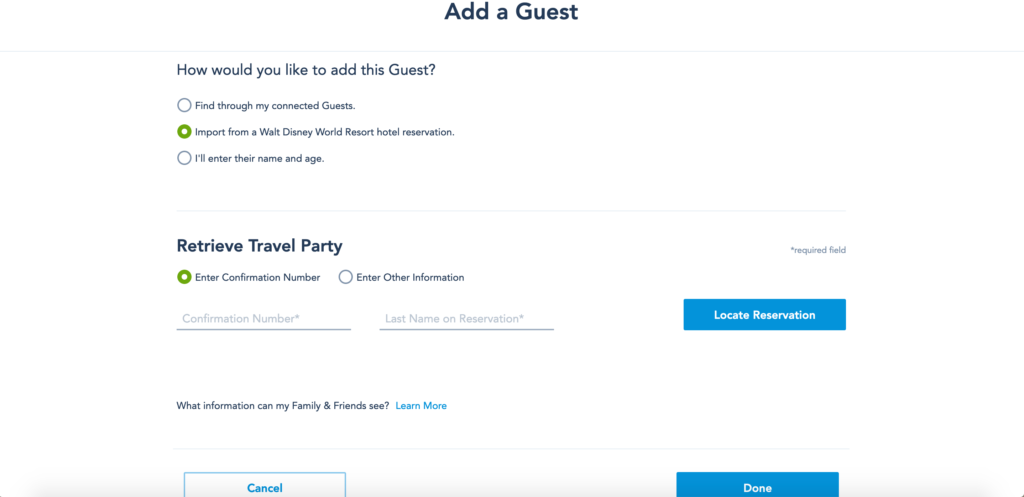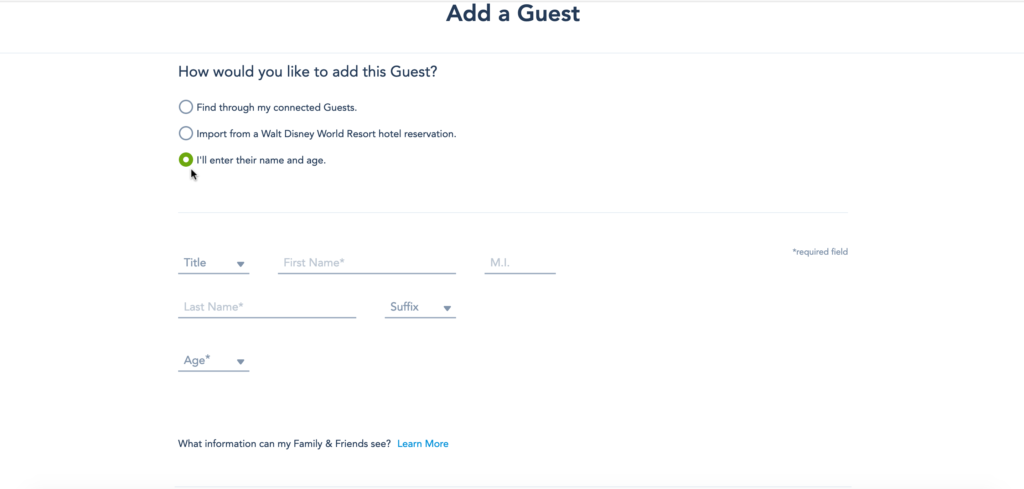 If you found friends/family by reservation number or email, you can choose how many plans they see and vice versa. You can choose for them to see everything or only plans they are involved in with you. Be sure to tell them you requested to add as friends so they go to their MDE account and approve to connect. Unfortunately, the Disney friend request email does not always get sent to them showing the request.
Now you can add each ticket and assign each ticket to each person. The tickets cannot be transferred after first-use. If you need to transfer a ticket before it has been used, call Disney to complete the process (407-939-5277).
Have a magical vacation!