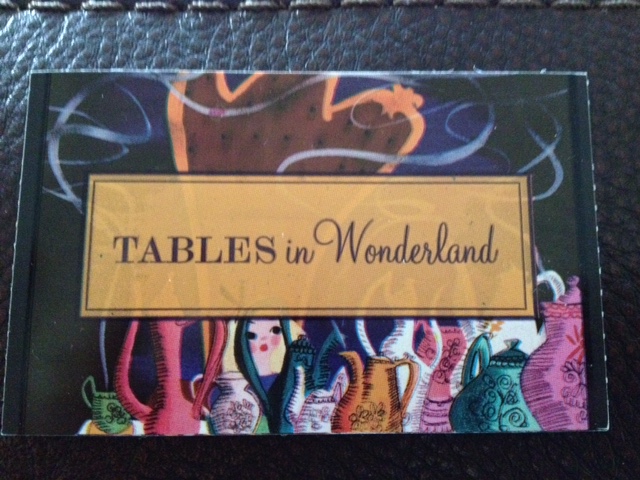 When I became a Disney Vacation Club member, I was looking for all sorts of recommendations. The doors were opening to different opportunities for us and I wanted to know EVERYTHING! I was told that the Tables In Wonderland card (TIW) was the best way to save money on dining. You save 20% on anything you want at table service restaurants. This is true, but there is more. There are some pros and cons. Let's review…………………
Pros
Save 20% on anything you want including alcohol, appetizers, desserts, etc.
More table service restaurants available to dine at to receive the discount that do not accept the Disney Dining Plan (DDP).
The card is valid for a full year.
Cons
The card is not transferable.
Must spend $750 at table service restaurants in order to break even for the $150 fee ($175 for Florida residents).
Mostly accepted at Table Service restaurants. There are select Quick Service restaurants that accept the card.
It is tough to schedule your day around all table service restaurants.
Almost all table service restaurants recommend a reservation.
DVC member and annual passholders pay a discounted rate of $150 for the card. (Florida residents: $175)
The name on the card must be present to use the card at all restaurants at all times and pay the bill, personally.
You cannot buy the card in advance. You have to wait until you are at the park or at Disney Springs. (Through all the excitement of being at Disney, I forgot to buy the card in advance and had to run out during our first table service lunch to go buy it. Thankfully, I was close to guest relations!)
If you go to Walt Disney World once a year, that is all it can be used for.
Required to be a DVC member, Florida resident or Annual/Seasonal passholder to purchase.
You spend more on food than you normally would. (Table service food is more expensive than quick service food in addition to having to pay a tip.)
You pay a tip at table service restaurants and tips are automatically added. When you give the server the TIW card, they come back with a slip for you to sign. You can add more of a tip, if you want, but, by using the TIW card, an 18% tip is auto added. What if the service was subpar enough that would impact the tip? Thankfully, I have not run across that, yet, but it could happen. We always give 20% or more, but if the server is rude, not attentive, etc., I am not going to give that person the same amount as a hard-working, pleasant person who deserves and rightfully receives a good tip.
Personal Summary
As you can see, the cons outweigh the pros "for me" at this point in time. That is a very important sentence, because each person's situation is different. We were accustomed to the Disney Dining Plan (DDP). We can make reservations and use an entitlement without worrying about how much something costs.
The flexibility to stop wherever and whenever we wanted to eat at a quick service restaurant is important to us. We did not have to be concerned about the cost of lunch or worry about making it in time for our reservation. Now we make our decision on a case by case basis. We may buy the DDP, TIW or nothing at all and just use our DVC discount. Not sure if you should choose TIW or DDP, click here to help you make the decision.
Tip
It is important to point out that if you choose to purchase the deluxe dining plan, the TIW will definitely be the better option for you if you are a DVC member, Florida resident and/or annual passholder. If you live close enough to WDW that you would eat at TS restaurants more often and spend at least $750 in dining per YEAR, TIW would be good for you.
My Personal Experience
While all waiters and waitresses need to be tipped accordingly regardless of whether you have DDP or TIW, I found the savings to be wiped away with TIW, because we ate at more table service restaurants than we normally would have just so we could get the discount. The food is more expensive at a table service restaurant versus a quick service restaurant. We spent double on lunch than we normally would have at a quick service restaurant. Having the discount for appetizers was not beneficial to us, because the entrees have more than enough food for us to eat so we never ordered appetizers.
We do not want extra food to carry or waste it resulting in having to throw it away. After adding up what we spent in food versus the DDP, we spent more money on the TIW card, eating at table service restaurants and paying for tips, because we are only able to use the TIW card during this one trip for the one year it is valid. It is also less stress (FOR ME) if the DDP is paid for in advance of the trip.
Tip
If a DVC member, you get discounts at select TS restaurants. So, if you do not want the DDP or TIW, you can still get a discount. 
Keep in mind that this is my opinion based on how we prefer to eat lunches, how many times per year we visit Walt Disney World and how I prefer to pay for most of my trip over time prior to our arrival. Take a look at how you prefer to run your days in or out of the parks.
If you want to eat at a table service restaurant for all meals, visit Walt Disney World more than one time per year and you do not mind circling your days around your dining reservations, then the TIW card is the way to go. It just was not worth it to me. We are empty nesters now. So, spending $750 at TS restaurants for just my husband and I will not happen.
For the current list of restaurants accepting the TIW card, click here.
Click here for more information about Tables In Wonderland on Walt Disney World's website.