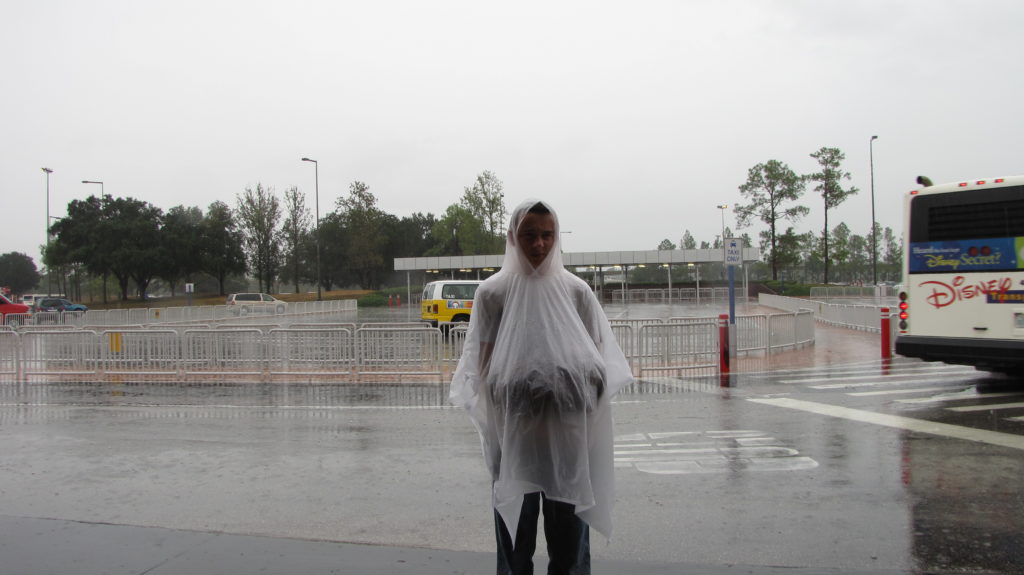 You can do a ton of weather research to find out the best time of year to go on any vacation anywhere in the world, but that does not stop Mother Nature from surprising you with a freak snow storm, rain storm, hurricane, Nor'easter, dust storm, heat wave, etc. If you live in New England, you are very familiar with the phrase "If you do not like the weather, wait a few minutes".
The official dates of hurricane season are June 1st through November 30th. Mother Nature played games for years causing the dates to be tweaked from the original dates of June 15th – October 31st. Historically speaking, there are not as many hurricanes passing through central Florida as you would think. But, it can happen at any time so we must be prepared.
What if there is a hurricane warning right before your trip?
If you have booked directly through Walt Disney Travel Company, the Disney policy is, "if the National Hurricane Center issues a warning for either the Orlando area OR your home area, you can call in advance and reschedule or cancel your "Magic Your Way" vacation package and/or room-only reservations that have been booked directly through Disney without any fees." The Disney hurricane policy also applies to Disney's Vero Beach Resort and Disney's Hilton Head Island Resort. Just remember: This policy only applies to reservations booked directly through Disney.
Anything booked outside of Disney (airline tickets, hotels, car rentals, etc) are not part of this exception. You would need to refer to all the companies for their policy according to how you booked them. Example: you booked your own car rental and flights. You would need to call each business to ask about their policy. If you booked with a travel agent who booked car, flights, resort, etc., you would only call the travel agent to discuss the policy. It is up to the travel agent to obtain all of the pertinent information.
What about hurricanes that hit while you are at Disney?
While this is rare, it can happen and there are plans in place. Disney has five stages that cast members follow in the event of harsh weather. Disney has had the need to close the parks due to an impending hurricane, but only a few times. They close all of the parks for the safety of their guests and staff.
This does not necessarily impact the entire property, though. People can still stay in their resorts. Disney goes above and beyond to make the guests' time as magical as possible while the parks are closed. Characters and entertainers make trips to the Walt Disney World resort hotels for special meet-n-greet and photo opportunities. Cast members have special events in the hotel lobbies and in-room Disney movie marathons.
They also ensure all guests are fully informed of all activities with pamphlets, posting it on the TV on the Disney Resort Channel, cast members passing on information, etc. From what I have been told, no one ever felt stressed or witnessed chaos. All of the cast members did a great job of making the unusual event as comfortable as possible.
Be Prepared!
Just because a hurricane at Walt Disney World is rare and Disney does a great job in preparing for these rare times, does not mean you should not be prepared. If you plan on going to Walt Disney World during hurricane season, you may want to consider buying travel insurance. While the official dates are June 1st – November 30th, that does not mean a hurricane will not appear in May or December. It is very rare, but remember that they used to have the hurricane season dates at June 15th-October 31st. They had to expand the season, because hurricanes kept occurring outside of the usual season. As Scar would say "Be Prepaaaaared!"
Do not let the threat of hurricane weather stop you from hitting the parks. We would all rather be at Disney in the rain than at home. But rest assure, if something happens, Disney is ready for it.