By Courtney and Scott Kahler
Scott and I attended the opening day of Magic Kingdom (MK) on 7/11. We arrived at MK 1.5 to 2 hours after they opened and experienced no lines at parking, the wellness check, the monorail or at park entrance. They are parking cars in every other spot and then going back and filling in the empty spots to give people more space to unload. (They did this at Animal Kingdom, also.) There are no trams running in the parking lots, so, thankfully, they are using the front lots. (We were in Zurg – the closest Villain lot forward.) There are plenty of Cast Members (CMs) directing you towards the park entrance and making sure everyone is using the proper walkway. The health tents are set up in front of the security checkpoints and once through, you proceed to security where they are using the traditional metal detectors.
Both the monorail and the ferry boat were transporting people to the MK. There were large stickers on the floor ahead of the traditional monorail queue with arrows and groups of numbers. I'm not sure how they use these numbers as we did not have to wait in this section. Once inside the monorail station, a CM assigned us to a set of doors where they are boarding one party per doors (two parties per car). There is a divider hanging between the two compartments of the train to separate the parties.
There are spacing stickers all throughout the plaza entering the park, and the fingerprint device is covered (MagicBand scans only). The CMs have adorable half-mask character smiles to hold up over their masks! It was a really great touch. An interesting observation: They have removed the Happily Ever After Fireworks poster from within the tunnel under the train tracks and have put a safety poster in its place.
Most rides were a 15-20 minute wait throughout the entire day and several attractions you were able to walk right on. Unfortunately, Haunted Mansion is still having technical issues from prior to the shutdown and randomly goes down during the day. Many line queues have been extended to be outside. So, we HIGHLY RECOMMEND you bring a poncho, raincoat or umbrella, because if you are in line and it starts to rain, you are either getting wet or getting out of line.
There are a lot of serpentine lines throughout MK attractions and most of these have stickers staggered so there is actually more than 6 feet of space between you and the party in front of you to allow for enough space between you and the party in the line next to you. See picture below.
The outside of It's a Small World is boarded up, but we are not too sure why as the inside of that side is for handicapped waiting only. Our only guess is in case the handicapped line extends to outside it would serve as a divider. The main queue goes out into the courtyard next to the attraction, where they have, thankfully, added large fans. They are seating two parties per boat; one in the front and one in the back with at least one row between parties.
Splash Mountain's queue was relatively the same with ground stickers providing appropriate social distancing. They also seated two parties per boat in the front and back with rows between.
Haunted Mansion's main queue line is the same as Peter Pan's Flight with staggered stickers to provide space between you and the party in the row next to you. You don't group together by the doors in the courtyard anymore. It is part of the distanced line. Similarly, the foyer and the stretching room are also part of a socially distant line so there is no pre-show anymore. You maintain this line up until you are told to go onto the moving walkway and enter your Doom Buggy where they also skip every other buggy between parties.
The outside queue of the Seven Dwarfs Mine Train is socially distanced both with some of the serpentine lines being staggered with stickers to maintain space or skipping the row entirely. So, be sure to look ahead and pay attention to where your next mark is. The inside queue has plexiglass installed between the rows. They seated one party per car and skipped a row between parties.
The Many Adventures of Winnie the Pooh was pretty basic with spacing. They have covered up the interactive portions of the queue and have rerouted the line away from the large interactive Honey Wall. They sat one party per car.
Philharmagic was our biggest disappointment of the day. Aside from every CM being in a seemingly horrible mood, NO ONE behind us was paying attention to the marks in the line. We had to tell the large party behind us to get back on multiple occasions and even the parties behind them were not standing on appropriate marks. This is a serpentine line that skips several entire rows to prevent people from standing next to each other. We don't know if it's because the carpet was busy or what, but it was definitely frustrating. Once you are inside and waiting at the doors to go into the auditorium, you are told which large circle your party should stand on. (I, unfortunately didn't get pictures of this, but it was very similar to the "It's Tough to Be a Bug waiting area" picture from my Animal Kingdom review.) Everyone did this part fine, but once the auditorium doors opened people seemed to just rush forward without any thought to those around them. The CMs were no where to be found either. Once inside every other row was roped off and there were four seats together for seating with three blocked off between them for space. Our other main complaint here is that in previous 3D rides (Flight of Passage, It's Tough to Be a Bug) a CM handed your party your 3D glasses. Here they were laid out as normal and everyone was grabbing glasses and kids were touching them, so we used our own sanitizing wipes to clean ours. Afterward, we ran into a Leader outside and gave him all of our feedback regarding Philharmagic. That being said, we SHOULDN'T need CMs to walk around and make sure we're standing where we should and paying attention. Try to be extra aware.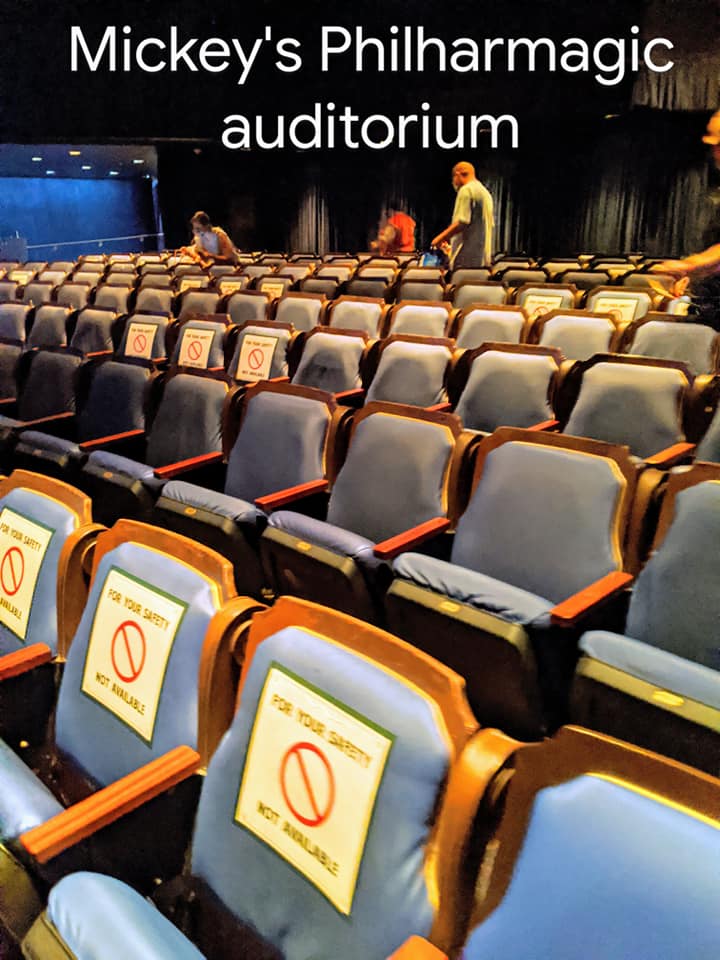 Jungle Cruise's queue line needs some special attention, also, because of how narrow the rows are. The stickers are placed 6 feet apart, but if you have more than 2 people in your party you start to file behind one another and, soon enough, you're close to the mark behind you. We stayed an extra sticker behind the group of 3 in front of us. We pointed this out to a Coordinator while in line and she said that they had already begun to discuss this and will probably start to recommend 2 people to a sticker no matter your total party size. The boats have a clear divider separating your Skipper from the rest of the guests and there is plexiglass installed along the seating around the outside of the boat. There is no more seating in the center.
Space Mountain has the same issue as Jungle Cruise with narrow rows. We had a party of 4 in front of us and there was no way we could move up to the sticker behind them, because their 4th person was literally standing in front of it. The large queue near the loading area had plexiglass between rows. They sat one party per car and skipped a seat between parties.
Buzz Lightyear Space Rangers has extended its outside queue prepped, but we walked right on to this ride. They skipped a car per party.
Every so often they had characters on a float go through the parade route so you could wave and get pictures. Characters were also positioned above on balconies. We saw the Country Bears above their closed attraction in Frontierland. At times, it seemed like people got so excited to see a character that they didn't even think NOT to run up and stand next to strangers, so just be aware.
We were able to get in to Be Our Guest for lunch and it is a prix fixe menu with three courses (appetizer, entree, dessert). This was on the more expensive side, but delicious! Previously, you also got to meet the Beast after your meal at dinner and get a picture with him. Now they announce him during your meal and he walks out into the room, takes his time, waves to everyone and you receive an autographed postcard.
PhotoPass photographers are not out in as many places, so you have to stumble upon them. But we found a few at both parks and the lines were only a party or two deep. We have noticed that it seems to take much longer than before to get magic shots and pictures from attractions back. We still haven't seen any MK attraction pictures get uploaded to our accounts and it's been over 24 hours.
The fitting rooms in the stores are all closed and we found out they are not currently transporting your purchases back to your resort if you're staying on property; they only offer ship to home.
As with Animal Kingdom, there were hand sanitizing stations where you entered lines, where you got onto the rides and when you exited the ride, as well as at the entrances and exits of all shops and restaurants. There was, also, plexiglass in front of every cashier station and all flaps to trash cans were positioned open. Every so often an announcement would come over the park speakers reminding you to wear a face covering, socially distance, cover your nose and mouth when coughing or sneezing and wash your hands frequently.
The crowds were quite nice, especially when compared to how busy they usually are. It made for capturing some great pictures!
Our final thoughts on what's most important:
Wear your mask at all times!
Pay extra attention to your surroundings, especially in queue lines and at doorways.
Bring battery-operated fans to help with the heat.
Pack a poncho, raincoat or umbrella for those new extended outside queues.
BRING AN EXTRA MASK! They can get sweaty and you may want to change them out during the day.
Have patience – We're all learning and navigating this new situation. The Disney app wasn't always correct and things could be confusing at times.
Most importantly, THANK THE CAST MEMBERS! They are doing amazing jobs and deserve our appreciation ?
Whether you get to visit "Home" soon or not, stay magical ✨