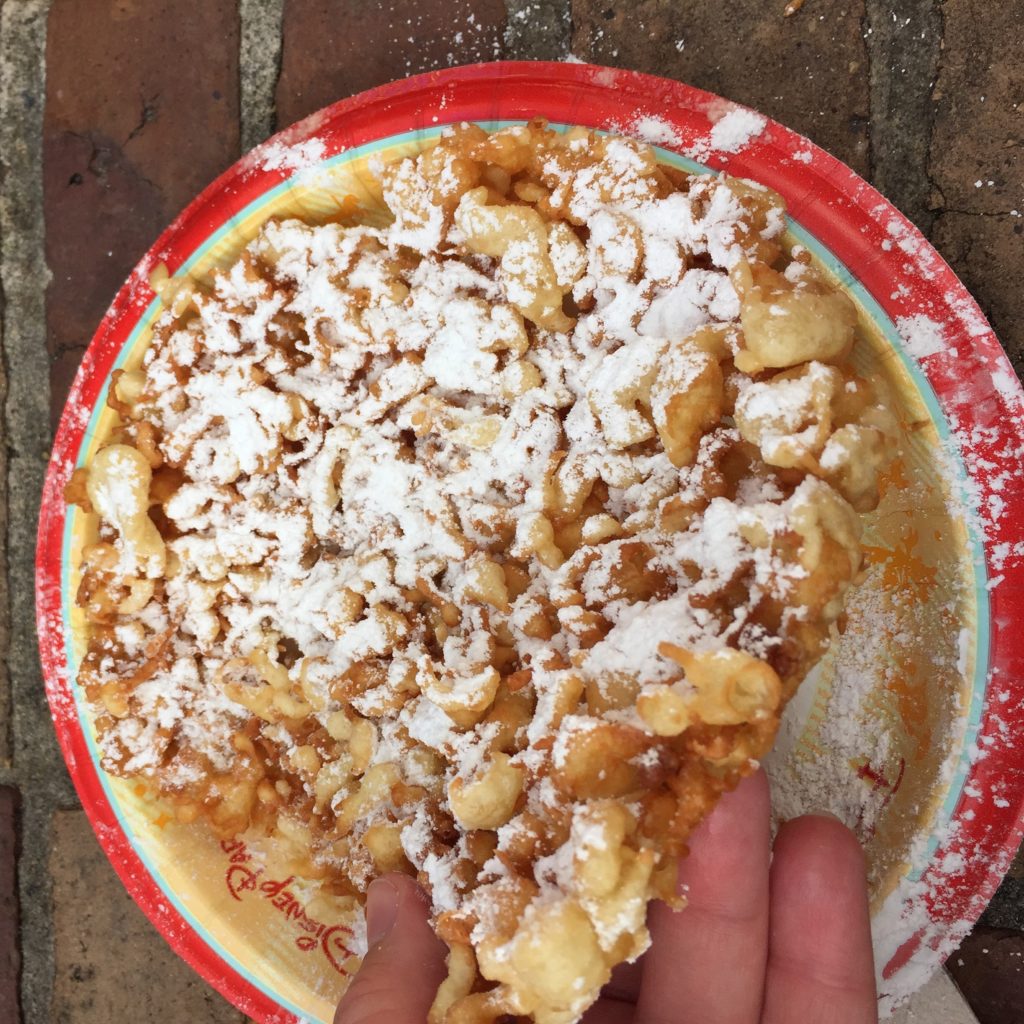 Disney has snacks everywhere. When you want something in a hurry, you are never more than a few feet away from a delicious treat. Keep in mind that not all of the snacks listed here are a snack option on the Disney Dining Plan. Always ask the cast member or look on the menu for the Disney Dining Plan logo prior to purchasing the snack.
Must-Have Snacks:
Funnel Cakes–This is one of our traditions. We must stop in the Magic Kingdom at Sleepy Hollow in Liberty Square for a funnel cake. I do have to share one, because it is bigger than a normal snack that affects my appetite for dinner. If you ever had a "Doughboy" (AKA: "Fried Dough"), a Funnel Cake is the same thing except it is made of deep fried strands of dough. You can top them with powdered sugar and/or cinnamon. Consider being adventurous by having ice cream and/or chocolate syrup on it. You can get funnel cakes in the parks, at the water parks and at Disney's Boardwalk.
Dole Whip–This little piece of heaven is a non-dairy, soft pineapple sorbet. You can buy it as is or as a float in pineapple juice. It is NOT available at all four parks. You will have to head to Aloha Isle in Adventureland at the Magic Kingdom, Tamu Tamu Refreshments in Africa at Animal Kingdom or Captain Cook's at the Polynesian Resort in order to get it. The bonus is that this creative, refreshing treat is fat free.
Pastry/Bakery Items–There are bakeries in all four theme parks, several resort hotels and some counter service restaurants. When we did decide to grab a snack other than our usual favorites, we look for the most unique pastries, buy a couple and my husband and I try each one. The quickest grab and go item would be a rice crispy treat. I also don't feel so guilty after eating one of those.
Churros–Churros are Spanish doughnuts that are long, thin and covered with cinnamon and sugar. Churros can be found in all four theme parks and at some of the restaurants as well.
Healthy/Semi-Healthy Treats:
Pretzels–I am a HUGE fan of soft pretzels. A warm pretzel with salt is great to me!! The regular soft pretzels sold at the carts in the theme parks are vegan (without egg, dairy or other animal products), but, to be on the safe side, ask first if you are a vegan. Order them as is or enjoy a dip such as cheddar cheese or caramel. You can also be adventurous and try a sweet cream cheese filled pretzel or a jalapeno cheese filled pretzel at certain locations.
Fresh Fruit–This brings me back to when I used to tell my parents how hungry I was when I was a kid shortly before dinner and I would get the "have a piece of fruit". As a kid, that was not what I wanted to hear. But, as a parent, I know why they always said that to me. You want something healthy to eat or drink 24/7 in Disney, you got it! Fresh fruit is available at snack carts, counter service restaurants and on buffets.
Popcorn–One of the best smells in the entire world is fresh-popped popcorn! I always plan on NOT getting any popcorn while at the theater, but the smell takes over as soon as I walk in the door. "They had me at sniff…sniff". If we think theater popcorn is good, can you imagine how good it is at Disney? There are stands throughout the parks for traditional popcorn. Want some popcorn with a twist? Many stores have plain, caramel, chocolate/nut, kettle, confetti plus many more.
More of a treat versus a snack:
Candy–It can be found EVERYWHERE throughout the world! Head over to Goofy's Candy Company in Disney Springs. It is important to remember that, technically, you can buy candy anywhere in Walt Disney World including the World Showcase. The countries have chocolate relative to their respective country. It is a very different taste to the candy we are accustomed to made in the US.
Ice Cream Treats–The most popular ice cream treat is the Mickey ice cream bar. If a snack cart has them, you will see a sign. It is vanilla ice cream covered with chocolate in the shape of Mickey Mouse's head on a stick. You can purchase soft serve ice cream seemingly around every corner, also. There are hand-scooped options at all of the theme parks and at several of the resort hotels as well. The many different flavors are available in a cone, dish or as a sundae. For those who cannot eat ice cream, go to the Plaza Ice Cream Parlor at the Magic Kingdom located on Main Street, U.S.A. where you can enjoy Rice Dream and/or Tofutti.
Snack Exception:
Turkey Legs–Ok, this is not really quite a snack, but it is a fun and tasty thing to eat while at Disney. Think about it……will you reminisce with family and friends about the time you ate a chocolate bar at Walt Disney World or will you laugh and have fond memories of the fun time you sat and shared a huge turkey leg at Walt Disney World? Disney sells over a million each year and you can buy turkey leg t-shirts and air fresheners. Tip: Each leg weighs approximately 1 1/2 pounds and they are brined so they are very high in sodium.