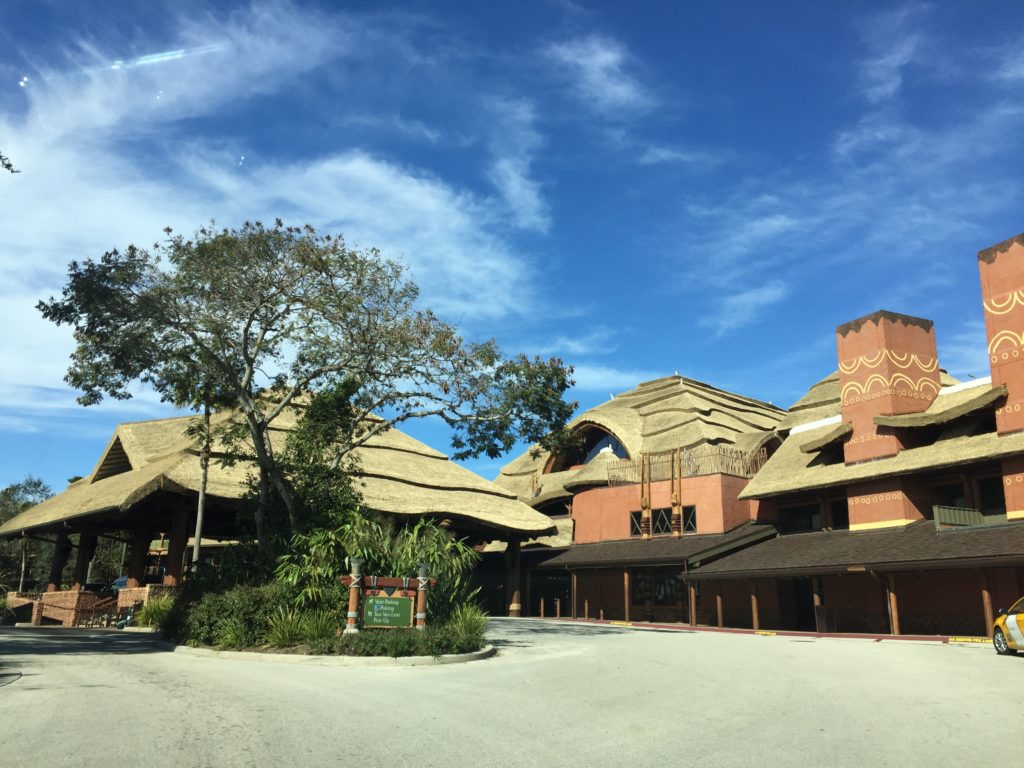 Many potential Disney Vacation Club (DVC) members and current DVC members have asked what the differences are between Kidani Village and Jambo House at the Animal Kingdom Resort. Some things are merely personal preference. Here are the lists of the actual differences and people's personal observances. Hopefully, this will help you decide which resort is best for you and your vacation party.
Kidani Village
Samawati Springs Pool Area–This area is the most popular pool area at the Animal Kingdom Resort. It features an enchanted heated pool and exciting water playground. It has a 128 foot-long pool slide and 2 whirlpool spas. Kids love to explore the Uwanja Camp, which is a water playground. It has gentle geysers, a squirting flower garden, water cannons and much more.
Dining–While the Animal Kingdom Resort houses some of the best dining in all of Walt Disney World, Kidani is the home for Sanaa, Sanaa Lounge and Maji Pool Bar. The Maji Pool Bar offers water, resort cocktails, wine, draft beer, sandwiches, salads, fruit and other snacks at this secluded poolside bar. Private dining is also available. Sanaa Lounge offers appetizers and salads, plus African wines, beers and signature cocktails. They also offer a Discovery Wine Flight and specialty drinks like the Kande Coconut Cooler and African Starr Mojito. Seating at Sanaa Lounge is first-come, first-served. Sanaa offers slow-cooked meats, salads and vegetarian specialties as you discover African cooking with Indian flavors. This exquisite, East African-inspired eatery, starts your meal with Indian-style bread service with 9 accompaniments ranging from sweet mango chutney to spicy red chile sambal. Select from tender meats and seafood slow-cooked in gravy such as spicy Durban shrimp as well as vegetarian dishes for your entrees. They also have a variety of sampler platters that allows you to choose a variety of flavors and kid-friendly food like beef burgers, pizza and grilled chicken.
No Quick Service Restaurant–While Kidani does not have a quick service restaurant, they do have a refill station for anyone who has refillable mugs or simply wants to buy a drink in the store in the lobby and at the pool.
Other differences
Kidani has an extra bathroom in the bedroom villas
Smaller lobby
Smaller gift shop
Better lighting
First on the bus to go to the theme parks and first off the bus when returning to the resort
Community hall
Undercover parking
Lower savanna view
More peaceful and quiet
2 floors for some bedroom villas
Better animal viewing locations
Jambo House
Uzima Pool–This 11,000 square-foot tropical oasis features a thrilling pool slide. There is a gentle slope and zero-depth entry point similar to a natural beach. Uzima Pool includes 2 relaxing whirlpool spas and a children's wading pool.
More places to eat at Jambo
Award-Winning Dining–Jiko offers a delicious blend of traditional African, Indian and Mediterranean cuisine. They have steak, chicken, seafood, vegan and vegetarian dishes, which are infused with a uniquely bold blend of flavors and fragrant spices. The children's menu features pizza, grilled chicken, steak and market-fresh fish served with ancient grains and vegetables. Maybe you would like to go on a wine tasting at Jiko? Reservations are highly recommended and there is also a dress code.
For a more casual dining experience, try Boma – Flavors of Africa. Dine under thatched roofs and start your day with a cup of full-bodied Kenyan AA coffee, tropical juice and a bountiful breakfast buffet. Selections may include made-to-order omelets, French toast, African pastries, carved ham, fresh fruit and corn beef bobotie (a type of South African quiche). At dinner, watch the chefs prepare grilled seafood, roasted meats, vegetarian specialties, fresh salads and house-baked pastries in the onstage kitchen. Kids can enjoy options like chicken nuggets.
Quick Service dining is available at The Mara, which is where you would refill your refillable mugs.
They also have Uzima Springs Pool Bar, Cape Town Lounge & Wine Bar and Victoria Falls Lounge.
Jambo House Club Level Amenities
(This is rather difficult to book due to popularity due to convenience for quick service restaurant.)
Evening turndown
Personalized Front Desk and Guest Services
Complimentary newspapers in Club Level lounge
Access to Concierge service at the Kilimanjaro Club
Opportunity to book and experience the Sunrise Safari Breakfast Adventure
Pre-arrival Walt Disney World Resort itinerary planning
Complimentary fax assistance
Complimentary health club access
Secured key access to the club-level lounge, serving refreshments from 7:00 AM ET to 10:00 PM ET daily.
Other Jambo differences
Bigger gift shop
bigger lobby
beautiful grand entrance
Kidani and Jambo
Shuttle between both locations.
Room Service
Arcade
Basketball
DVDs
Fitness Center
Jogging
Tennis
ATM
Babysitting and Childcare Services
Banking
Barbecue Grill
Designated Smoking Areas
Disney Bus Transportation
Disney's Magical Express
Grocery Orders
Laundry and Housekeeping Services
Lobby Concierge
Locker Rentals
Mail Services
Merchandise Delivery and Pickup
Merchandise Shop
Online Check-In
Parking & Car Rentals
Wireless Internet