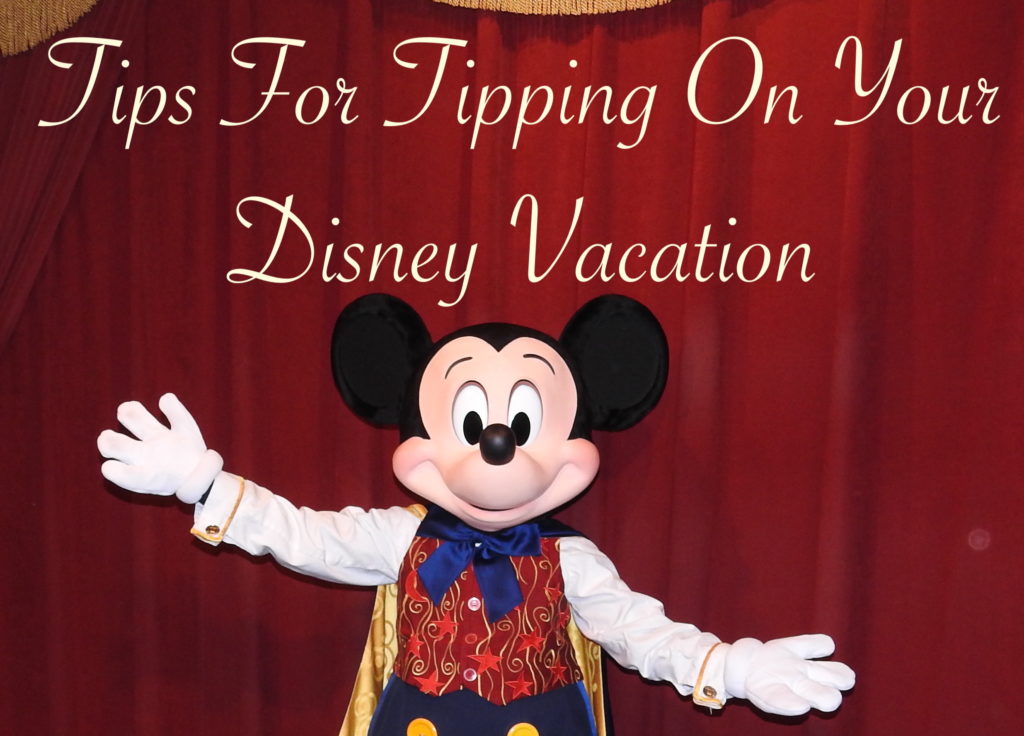 Many Disney guests who visit from other countries simply do not know how customary it is to tip people in the United States. It is not necessarily about whether or not they make above minimum wage or not, either. It is not just about where you dine, either. There are some places where you would think you would not tip anyone, but if the person did something for me and I was happy with what they did, I offer a tip. Some people will decline the tip and some will gladly accept the tip.
Yes, tipping is an extra cost, but put yourself in every person's shoes. Would you want or expect a tip for a job well done? Would you want your kids or grandkids to be rewarded for doing their job in a service industry? Here is where I tip from the moment I leave my house to go to Walt Disney World to the moment I return back to my house.
Housesitter/dogsitter–There is a nightly rate if you have someone staying at your house, but I either add a tip at the beginning to the nightly rate or I give a gift card or another check when I get home from my trip.
Transportation to airport–If you take a car service, taxi, have a friend drive you to the airport, etc., be prepared to give 20% tip or more on the cost of the ride, which will also cover them handling your luggage. If it is a friend, maybe bring them back a souvenir or give them a gift card to their favorite restaurant.
Shuttle at airport–Whether you drive to the airport or someone drops you off at curbside check-in, it is customary to give shuttle drivers $1-$3 per bag or more after they drop you off at the terminal. This is the same rate for curbside check-in. So, if you take a shuttle from your car to curbside, you will be paying a tip twice. If you only use the shuttle and check your luggage inside, you are only paying the shuttle. If someone drops you off at departure terminal and you use curbside, you are tipping only the curbside. If you go directly inside, no tipping for curbside. NOTE: If the shuttle driver does not get out of the driver's seat and does not touch your luggage, no tip.
Wheelchairs or special cars in the airport–If you have an airport employee drive you in the airport to your gate or wheel you in a wheelchair to your gate, $5-$20 depending on how long they are with you, how long the ride was and how far they pushed you.
Flight–If you purchase something extra like alcohol on your flight, please tip the flight attendant, which can only be cash. Not mandatory and not necessarily expected, but it is a nice gesture.
Shuttle to car rental agency–If your car rental agency is off the airport and you have to take a shuttle, $1-$3 per bag or more after they drop you off at the car rental office. Once again, if the shuttle driver does not touch your bags or get out of the driver's seat, no tip is necessary.
Disney Magical Express–$1-$3 per bag or more upon arrival at your resort. If you have 5-10 bags, $10-$20 is a great tip even though it is not $3 per bag for 10 bags.
Bell Services–Many will have Disney pick up their luggage at the airport and deliver the luggage to their room while they are at the parks. But, you need to put your carry-on luggage someplace before going to the parks. Once we get to the resort, we hand over our carry-on luggage to Bell Services and give them $5. Once we get to our room later, we call Bell Services to have the carry on luggage delivered to our room. That is when that person will get $5. Add more money for more than 4-5 carry-ons and/or bags. If they are bringing other luggage transferred from another resort, go with the standard $1-$3 per bag.
Extra items–Regardless of who brings extra items you request to your room–$2-$5 tip or more. If you see mousekeeping in the hall and ask for an extra shampoo, give him/her a $1 or more. If you request extra towels and coffee and they bring you a few coffees with more towels than you expected, reward them with $5 or more. It is really a judgment call on how much, but any time someone brings something to your room, tip them a minimum of $2.
Grocery delivery–The companies will ask if you want to tip based on their service and I have never seen a place that does not deserve the tip. On top of that, if the groceries were left with Bell Services requiring you to call Bell Services and have the groceries delivered when you arrive at your resort, another tip is expected, because it is not the grocery company delivering to your room. Bell Services would be delivering. If you have 2 or 3 grocery bags, $5 is sufficient, but if you have a lot of groceries, tip at least $10 or more for Bell Services. FYI, Walt Disney World charges $6 for grocery deliveries. This is not a tip.
Concierge–$2-$10 or more depending on what they help you with.
Minnie vans, taxis, car service, etc., on property–20% or more of fare.
Table Service Restaurants/Bars–20% or more for table service dining, bars and room service on total of the bill.
Mousekeeping–This can get complicated, because of the size of the room, the mess, how many people are in the room, if staying as a Disney Vacation Club member or not, etc. It is also important to leave a daily tip if not staying in a DVC resort, because one person could be cleaning your room every day and if you leave the tip at the end of your stay and the one person who was doing all the cleaning is not working on your last day, they will not get the tip. The tip goes to the person who cleaned that one last day. Some of this is judgment call, but here is a range based on rooms only:
Standard 4-5 person/room–$2-$5/night
Suite–$3-$5/night
Deluxe Studio–$3-$5/night
1 bedroom villa–$3-$6/night
2 bedroom villa–$4-$7/night
3 bedroom villa–$5-$8/night
And, then the cycle in reverse when it is time to leave Disney. Keep in mind that this is a customary guide. Please, by all means, tip more, if you are so inclined, which is why I emphasized "or more" in multiple locations. My husband and I had such a great experience at a restaurant that we gave the server a 50% tip, talked to the manager and wrote a letter to Disney. He worked hard for that tip and it was well deserved. It is also important to remember that a dollar here or a dollar there is really not that big of a deal in the grand scheme of things to you, but can mean the world to the person you are giving the extra dollar to. If you run across a situation where you are not sure if a tip is needed, but you feel you should, offer $2-$5. Every time I have done that at Disney, they decline the tip, but it does not hurt to offer and it makes the cast member feel special! If they cannot accept the tip, get their name and tell Disney how they made you feel special enough that you wanted to tip them. I actually take a picture of the person. This helps me to remember to send an email to Disney when I get home and help me remember their names without needing a pen and paper.
The good news is, there is not a lot of tipping at Disney. If you were wanting to go to Las Vegas, the tipping list is soooooo much longer. It feels like all you ever do is tip no matter where you are in Las Vegas!