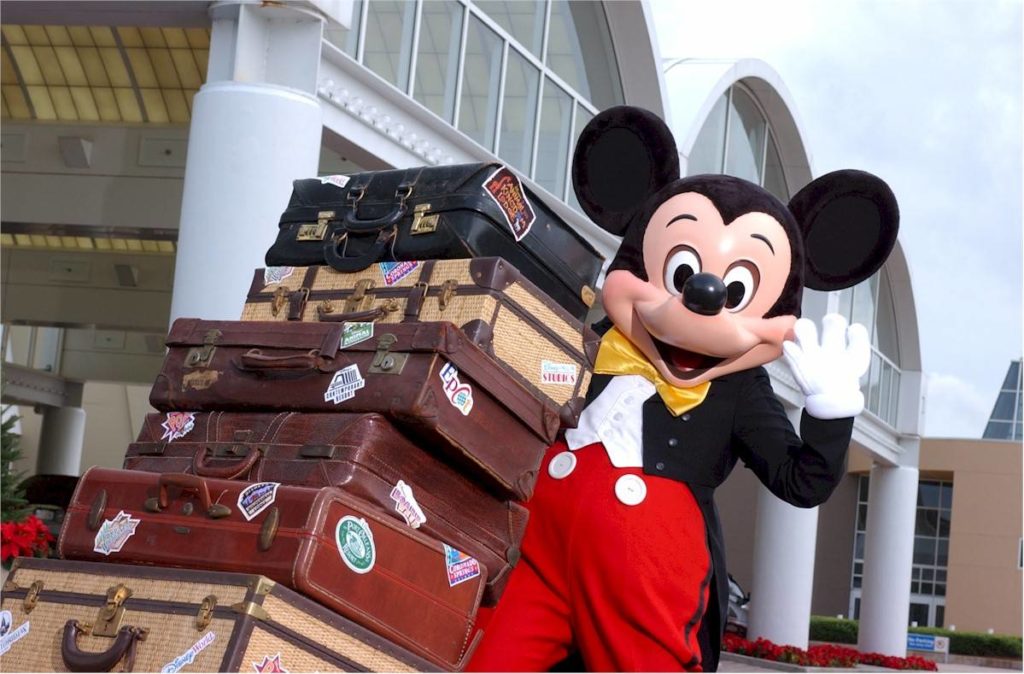 Here is a step-by-step process to help you from the very beginning planning stages all the way through to when you are packing your bags to go on your magical vacation to Walt Disney World. This site exists because Walt Disney World is a force to be reckoned with.
There are links in each section to further elaborate and provide details with each step. Just click on the key words that are different colors from other words and you will be brought to that page. There are pages and pages of helpful information to help people plan their vacations, but many people ask, "Where do I start"?
First Step
The first thing you should do is decide when you want to go to WDW. The time of year will impact the cost of the nightly rate, theme park ticket prices, restaurant prices and travel. While Disney tries to announce refurbishments well in advance so you can plan accordingly to what will be open during your vacation, it does not always pan out.
But, go to Walt Disney World's Refurbishment Schedule to see if you will miss out on any of your most important attractions you want to see so you can decide if you need to change your dates for vacation to WDW or not. Also, WDW no longer has "low crowds", they have "less busy times". According to Disney's crowd tiers, click here for the Best Weeks to Vacation At Walt Disney World.
The levels for crowds is also how Disney prices the resorts, theme park tickets and restaurant prices. Supply and demand. The bigger the attendance, the more expensive it gets. Based on levels in this article, the lower the level, the lower the price, but keep in mind, it's not "cheap".
Step 2–The budget
Next thing to do is for you to think about your budget. How much are you willing to spend on a hotel? If you prefer to know how much all of it would cost in order to save the amount needed, go to the next step, but also go to "Money-Saving For Your Walt Disney World Vacation". That page has helpful information on how to save money for your trip including earning Disney dollars with a Disney Credit Card.
Step 3–What level of resorts fits in your budget?
Ok, where to now? I started with finances, because Disney has 3 levels of hotels. They have value, moderate and deluxe. It is not just about location or if there is a restaurant in your hotel, there are relatively big differences between all 3 levels. Yes, you will probably be spending most of your time in the parks so why bother to spend so much on any other resort other than a value? The answer is "Comfort and Amenities".
There is a difference with the pillows, beds and square footage between all 3 levels. Maybe you want a kitchen in your room. If you have more than 6 people or need more beds, you need a deluxe resort bedroom villa unless you plan on staying in multiple value or moderate rooms.
Want to stay on the monorail? You need a deluxe resort. If you need more space or a better, quality bed, a value resort is not the place for you. That is just a few examples. To see all the differences between the 3 resorts, go to these pages: Differences Between Moderate and Value Resorts and Differences Between Moderate and Deluxe Resort.
Step 4–Which Hotel?
Once you decide on which resort level, then you need to decide on which hotel! What?! Yup! That was just deciding a level. Now you ask, "Which one is best"? Well, they are all great! They are all themed in their own special way. When it comes to Value or Moderate, I choose the resort with the least expensive nightly rate. Deluxe is a different story. Not all of the deluxe resorts are on the monorail.
If you stay at the Contemporary, you can walk to the Magic Kingdom. Animal Kingdom Lodge is nice and quiet. It is a beautiful resort and is my favorite out of all of them. Choosing a Deluxe resort is purely a personal preference. Go to our YouTube page for videos of some rooms. Polls were conducted in our Facebook Group asking them for their favorite resorts. Click here for the results. To see the results for their favorite resorts to stay at during the holiday season, click here.
Step 5–What do you want to do while you're there?
Once you get all of that done, the rest flows smoothly. How many days do you want to go to the theme parks? Many will have the first and last day as their travel days and consider them to be "down days". They will go to Disney Springs, swim at the resort, go resort hopping, etc.
Step 6–Decisions to make/look for deals.
When booking a room and ticket package with WDW, you are given the option to purchase the dining plan (Temporarily suspended). That is the next thing to consider. Click here to review the dining plan information.
Once you have decided on the time of year, resort, tickets and dining, look for specials! If it is too early to look for specials for the time you plan on going, you can still book your package with the required down payment and make payments as frequent as you want. You simply continue to look for specials and call WDW when you see one that impacts your vacation. They will adjust your trip accordingly as long as it is at least 30 days before your check-in date. In the meantime, I found it best to make monthly payments instead of paying for the package upfront due to potential changes. If you are flying, start looking for prices for flights.
Another thing to think about to add to your package is Memory Maker!
Step 7–My Disney Experience
Set up "My Disney Experience" on your computer on WDW's site and download the app to your phone, if you have a smartphone. This is where you would choose your MagicBand colors and names and you can see everything from your resort reservation to your dining reservations, Disney Genie Service, theme park hours, create an itinerary, etc.
Step 7b–Theme Park Reservations (Temporary)
As soon as you have purchased your tickets, book your theme park reservation for every day you plan to be in a park. The reservations are required, which begin in the morning. You cannot park hop until 2pm. You must go to the first park before going to another park after 2pm. (Subject to availability.)
Step 8–Just wait, make payments and plan some more!
Then you can sit back, make payments on your trip (if you booked a package) and look at Table Service restaurants you want to dine at. Here are a couple links you may want to look at, too. The first one is the Top Ranked Table Service Restaurants. It is a list of the most popular table service restaurants that members from All Access Disney Group voted as their must-dine-at restaurants.
The next link is the Top DDP 1 Table Service Entitlement. It is a list of the most popular table service restaurants that members from All Access Disney Group voted as their favorite restaurants that only require 1 Disney Dining Plan Table Service Entitlement per person to dine at.
Maybe you want to book a dessert party or go to a special event? Be sure to have a plan ready for 6am EST on your 60th day. On the 60th day, you can book all of your dining reservations (60 +10 days if staying in a Disney hotel). Click here for Tips To Successful Dining Reservations.
Are you going with children? Here is a link to see what attractions your "littles" may not be able to ride. It's a quick reference separated by height and parks. It will save you from having to search each attraction on Disney's website. This link is about the Disney Rider Switch Service. If a child does not meet the height requirement or a Guest does not wish to board a particular attraction, no problem! You can still go on the attraction without the child/guest. Click the link to review the details and learn the process.
Step 9–Disney Genie Service
Disney designed a program to help people plan easier, have more flexibility and better tools to help you make the most of your visit. The Disney Genie Service is built right into the My Disney Experience. Click here to learn more about the Disney Genie Service. You'll need to decide if you want to buy the Disney Genie+ Service or purchase Individual attraction selections. If you choose to buy either one, add them to your budget. Choosing the attractions will not occur until the day you are there.
You also need to know Attraction Height Requirements for the little ones. That link is a quick reference listed by heights instead of having to look for each individual attraction for the height requirement on Disney's site. There is so much to do! What are the most important attractions to see? It is a personal preference, but here is a list of the most popular attractions/shows that many people recommend for each park. Click here to see A List of Must-Do's For Each Theme Park.
Final Steps/Thoughts
The final things to do are packing, looking at the weather so you can pack accordingly, allocating cash tips for dining, bell services, bus drivers, travel to the airport, etc. Here are some other important links to look at: 7 Things You Need To Know About WDW, Guests With Disabilities, a list of dining and resort information, a list of articles/tips/helpful info/trivia and Top 10 Disney Travel Suggestions.
Final thoughts, if you are a US military veteran and/or active duty, Disney has discounted rooms and tickets at really great rates. Plus, look at Shades of Green, which is on WDW property as an option for your stay. It could save you money.
AllAccessDisney.com has everything you need to know to plan your vacation, but I highly recommend you go to Walt Disney World's site and price out packages. Play around with different options. You are not held to anything until you are inputting your credit card information into the system to pay. That is when you stop unless that is the package you want to book. Disney will take your choices all the way to the end showing you the cost with taxes. Just do not input your credit card info unless you are sure that is the package you want. You can always upgrade with Disney, but you cannot downgrade. (Certain exceptions apply.)
Feel free to ask questions through our Contact Page, Twitter, Facebook Page, our Facebook Disney Vacation Club group and our other Facebook Group! Just remember to have a magical time on your vacation!