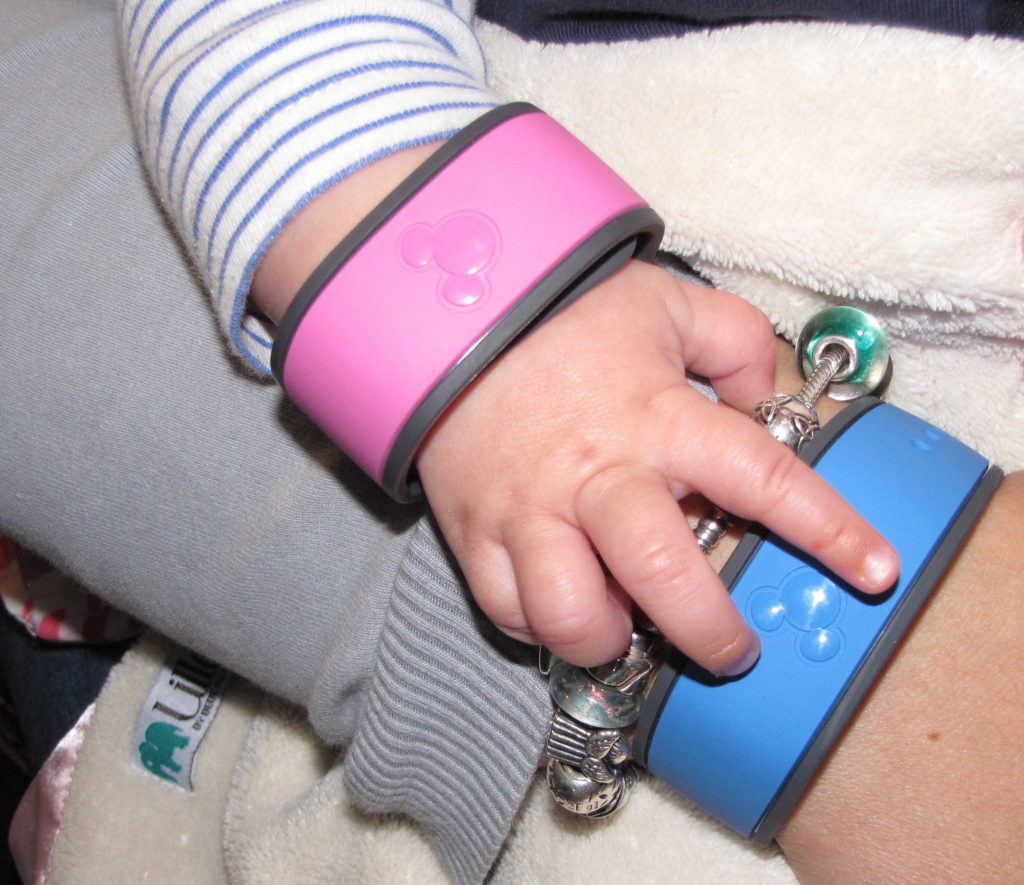 MagicBands and cards are secure all-in-one devices that allow you to access the plans and vacation choices that you have made with My Disney Experience.
You can use your MagicBand or card to:
Unlock the door of your Disney Resort hotel room.
Enter theme and water parks (with valid admission).
Connect Disney PhotoPass images to your account.
Charge food and merchandise purchases to your Disney Resort hotel room (only available during your hotel stay).
(MagicBand orders cannot be shipped to all countries.)
Here is a list of how the MB operates for Disney hotel guests:
Theme parks entry
Resort room key
Memory Maker scanner
Credit card for purchases (charges to your room, which has your credit card attached to it for your resort stay, food, incidentals, etc.)
Disney Dining Plan scanner
Special Event scanner
Safety tracker
Here is a list of how the MB operates for non-Disney hotel guests:
Theme parks entry
PhotoPass scanner
Safety tracker
MagicBand versus MagicBand+
Why the MagicBand+? Along with the classic features of the MagicBand we know and love, MagicBand+ introduces a number of new features that are unique to this latest iteration. Here's an overview of how the MagicBand+ is different from the original.
Visually, the new MagicBands take on a slightly different style. The middle circle (also known as the "puck") is slightly rounder and the band follows the contours of this piece. While solid color styles are still available, the Mickey head in the center of the band is outlined in chic silver instead of the old charcoal color. Each one has its own unique light sequence that follows its theme. The biggest feature that sets the MagicBand+ apart from the MagicBand is the addition of haptic vibrations and unique light sequences. As you move throughout the theme parks and resorts, MagicBand+ not only lights up during select interactions, but also vibrates along with your park and resort experiences.
Your MagicBand+ will vibrate and illuminate during activities. This happens when entering the park, using Lightning Lane, interacting with your environment, unlocking your room, during nighttime spectaculars. You can also unlock special experiences with MagicBand+ that simply aren't available for the original MagicBand. With new, immersive vibrations and dancing lights, your band will react in sync with what's happening around you at Walt Disney World and Disneyland Resort.
Although it may seem silly or may seem simple or unnecessary, these touches really make the magic come alive throughout the day. For example, embarking on Rise of the Resistance feels all the more real when you scan your Mandalorian MagicBand+ to use the Lightning Lane, which glows and vibrates in response.
Order MagicBand or MagicBand+
Resort guests and non-resort guests can purchase MagicBands online from the shopDisney app and select Walt Disney World shops. Resort guests can purchase online via your My Disney Experience account after booking your Disney stay and at other retail locations. There are many MagicBands available for purchase at a discounted rate on My Disney Experience if purchased in advance of your stay.
Disney Resort hotel Guests and Walt Disney World Passholders can place their MagicBand order by taking the following steps:
Link a MagicBand that you purchase
If you purchase a MagicBand at a Walt Disney World theme park or Disney Springs, please follow these steps to link it to your Disney account:
Link your MagicBand to your Disney account.
Once you receive your MagicBand+, click here to be brought to Walt Disney World's website for setup directions.
Tip:
Every resort has a spending limit that can be billed to your room. The limit depends on the resort. Sometimes, there are mishaps, because, as we all know, Disney is not perfect. I tried to buy something for $10.05 shortly after we arrived on our first day. I was told I was over my spending limit. This was my first purchase at this hotel so I knew something was wrong.
Thankfully, we still carry our Disney credit card with us as proof of discount, when applicable. We have to carry our Annual Passholder cards, Disney Vacation Club Membership cards and ID's for proof of using those discounts, as well. Upon inquiring about the spending limit at the resort, there was a snafu where a cast member inputted a $2.00 limit instead of $2,000 limit. So, be sure to ask your resort what the limit is or simply carry your credit card with you that the resort would be charging. It is better to be safe than sorry.
MagicBand Details
Private and Secure:
Extensive measures are in place to protect your information. MagicBands and cards are part of MyMagic+, which was built with privacy controls from the outset and is voluntary.
The MBs have multiple purposes for Disney Resort guests versus guests who do not stay in a Disney hotel.
Perfect fit for all:
Do not be concerned about whether or not the MB will fit your wrist. The MBs are actually two bands in one. There is a gray band on the back that attaches to the outside band. Adults use the band as it is. A child or adult with a small wrist can peel off the gray band on the inside. Also, you do not have to wear the bands, anyway!! Some people wear them on lanyards. Keep in mind that they are fairly comfortable and easy to get used to and/or forget about.
Allergies:
MBs are made of a waterproof material that is hypo-allergenic (non-latex material). If you are a Disney resort guest with an allergy to the material, you can request an RFID plastic ticket for your admission.
Technology:
MB has Radio Frequency (RF) technology. Disney will be able to see where you travel inside the park by the numerous touch points you come across and will be able to tailor specific offers to you in the future. Disney does not want anyone else to be able to read any personal data you have linked to your MDE account so they use a series of encryptions, secure links and random data codes to separate your personal information from your MB.
If you lose your MB or it is stolen, simply deactivate it in MDE or visit a Guest Relations location in a park or at the front desk of your Disney hotel and they will take care of it. No concerns about rain or water parks, either! You can wear the MBs in the water, because they are waterproof.
Assistance:
Any Cast Member can assist you in linking your park admission ticket to your MB, as well as Memory Maker, if you purchased it. (Just remember that you need to buy the Memory Maker package 3 days prior to your arrival in order to receive the discounted rate. For more information about Memory Maker, click here.)
The best way to prepare prior to your arrival at Walt Disney World is to load all of your dining reservations, tours, Memory Maker and theme park tickets to your MDE several days before your vacation. If you don't buy your MB until you are at the park, all of the information will automatically upload to your MB.
Click here to Contact Us or join our Facebook group!