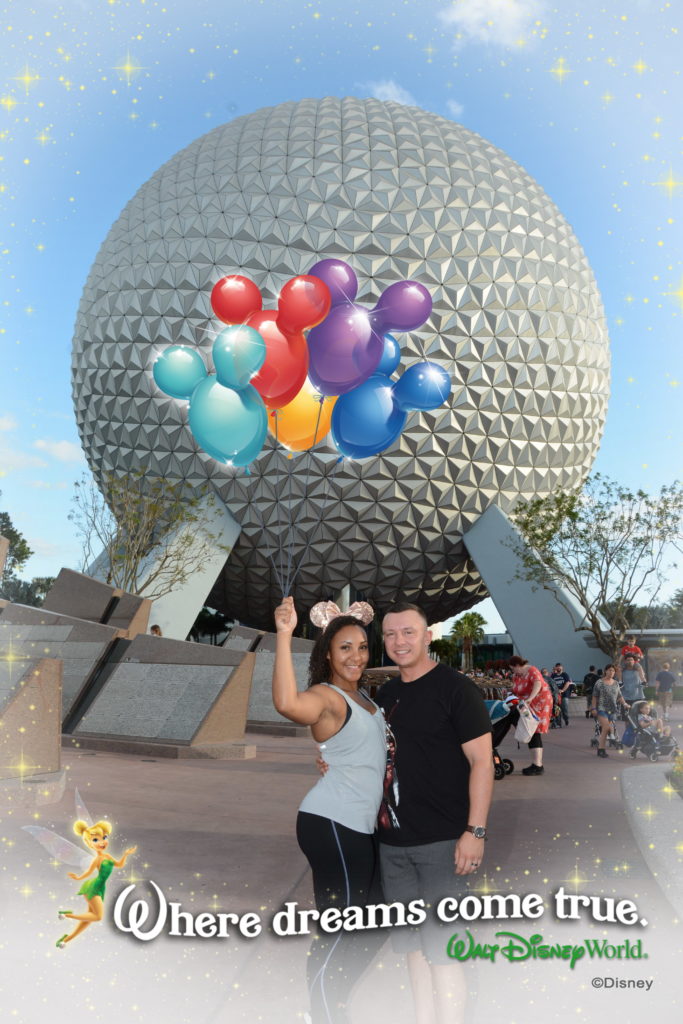 Memory Maker
Memory Maker (MM) is a pre-paid service provided by Disney for all Disney hotel and non-Disney hotel guests to buy in advance of their Walt Disney World vacation. While the package was designed to be purchased in advance, you can buy it after your trip. You save money by purchasing MM 3 days in advance of your check-in date. Also, it is still best to buy in advance to ensure you get all of your pictures and videos without issues. Buying after the trip can be done by calling 407-560-4300. This is also the same number you call if you have any problems with MM/PP (PhotoPass) or missing pictures/videos.
Memory Maker is a great tool for capturing moments that cannot be captured by the person who normally takes all of the pictures. This also allows the person with the camera to be in the pictures.
PhotoPass
Some people often ask what the differences are between Memory Maker (MM) and PhotoPass (PP). MM and PP are two different products.
PP can be purchased to ad onto Annual Passes. It works almost the same as MM, but they have access to the pictures and videos longer than people who have MM. It is also called PP for non-Annual Passholders who do not buy MM. Everyone can see the pictures and videos on their My Disney Experience (MDE). People who are not AP holders or do not buy MM only have the option to buy pictures individually. Here are more details:
Annual Passholders
If you purchased the PP to be added onto your Annual Pass (AP), you have 365 days from the day the first picture was taken to download your pictures for free. The PP follows the AP holder. However, anyone on the reservation or on your My Disney Experience (MDE) can touch their MB to the picture at the monitors. They can also have pictures taken with a photographer if the AP holder is not present. The photographer will scan their MB. All of the pictures upload to the AP holder account. The non-AP holder cannot download the pics for free. The AP holder can share them for free, though.
Reminder: If someone in the vacation party is not with the AP holder, their picture may not auto upload to the account.
Non-Annual Passholders Without Memory Maker
For non-AP holders who do not buy MM, guests merely touch your MB to the Mickey head. They can be found below the monitors after certain attractions. The Disney photographers will scan your MB before or after taking pictures. The pictures will upload to your My Disney Experience (MDE) account. You can buy all of the pictures or just a few or just 1, but you pay for each picture individually.
If you find that you really like many of the pictures, stop and look at how much you would be spending. It may be more cost effective to buy the Memory Maker. Then you can download all of the pictures. Be sure to call ASAP. It's not too late, but the clock is ticking on availability.
Memory Maker
The MM follows everyone on the reservation and is available for everyone on the reservation to see and download for free through My Disney Experience. The MM photos are available to download for 45 days from the first day of use. You save money by buying the MM 3 days in advance of check-in date.
Keep in mind that Disney provides videos on a few attractions. They are adding pictures and videos to more and more attractions. Many pictures are taken on attractions and do not have the monitors at the end in the gift shop to view the picture. The videos are a really great keepsake. You would see all of the pictures and videos on your MDE account whether you have PP/MM or not. Most pictures upload within hours, but it's best to allow 24-48 hours to see them.
Helpful Hints/Information
My Disney Experience
Prior to your Disney vacation, link everyone's Magic Bands to their own My Disney Experience (MDE) account and connect MDE accounts as "friends". Or, the one responsible party in charge of pictures, planning the trip overall can create people in their MDE and take care of all the planning for others. This commonly occurs with children. Everyone on the reservation must be on MDE either with their own account or on someone's account with plans managed by one person.
Example
I have a MDE account, but manage 7 people who commonly travel to WDW with me. Those 7 people don't have a MDE account. Three other people who commonly travel to WDW with me each have their own MDE account. We are connected through MDE by being "friends". One person requests through MDE to be friends. An email is sent for the other party to accept to be friends. Once everyone is connected, I plan and book dining reservations/hotel reservations for myself and the 10 people I referred to above.
It doesn't matter if all 10 people are with me or only 2 are with me. Whoever is on the hotel reservation, their pictures and videos will appear on my MDE account. I have PhotoPass connected to MDE, because I have an annual pass. I then download the pictures and share with everyone. If I didn't have an annual pass, I would buy MM, download and share the pictures (within 45 days of first picture taken). If I didn't have either, I could only buy per picture.
Purchase Ahead Of Time
It is best to purchase Memory Maker at least 3 days prior to arrival in order to avoid a delay with activation and qualify for the discounted rate. This will also allow you to be certain all of your bands are working and photos are linking.
Verify During Your Stay
During your vacation, log in to your MDE account, scroll down to photo pass and look at your photos. Most of the DVC resorts have the Photo Pass kiosk that you can scan your band and view photos. Some photos may not show up right away, because they tend to update overnight if taken by a PhotoPass photographer with a hand held scanner. If you find your photos are not appearing after two days, be sure to speak to a PhotoPass cast member at the PhotoPass desk/kiosk or call Guest Services and they can troubleshoot and fix the issue. (See phone number above.)
Disney Photographers
Throughout the parks there are numerous Photo Spots where photographers are stationed with cameras ready to take your picture. The photographer scans the band of one person in the party. If everyone is linked, it doesn't matter which person/band gets scanned. If everyone is not linked, the band of the Memory Maker purchaser needs to be scanned every time. There are scanners on the rides at the point where the photo is taken so everyone shows up in the picture.
Time Frame
Once you activate Memory Maker, you have 45 days from the moment the first picture was taken to download the photos and videos. All of your Disney PhotoPass media from within the 45 days will be available to download until that media expires. Your online photos are good for 45 days for adding Disney borders, banners, etc., from the day MM is activated. Keep in mind that your photos will expire on the Disney site and will be deleted as the 45 days hit each picture/day.
Download your pictures to your computer as soon as you get home, because the clock is ticking. If you spent 7 days at WDW, you now only have 38 days left to download. If you want the special borders, banners, etc., it's best to get your pictures 45 days from the first day of your vacation to ensure you don't miss out. As of right now, you can purchase an extension of 15 days for $19.95. You can customize the photos by editing, cropping, add borders, banners, stamps, signatures, etc. Maybe just download the originals and then edit on MDE later and download, again?
Download and save them to your computer as soon as possible so you don't forget and lose them, because the 45 days has passed. You can then print them when you want. You just can't add the special Disney features.
Memory Maker is a great time-saver, very convenient and ensures the maximum number of photos. Encourage members in your party to stop for photos when they see a photographer when they separate themselves from the party. Especially those who don't take many pictures, carry a camera, etc.