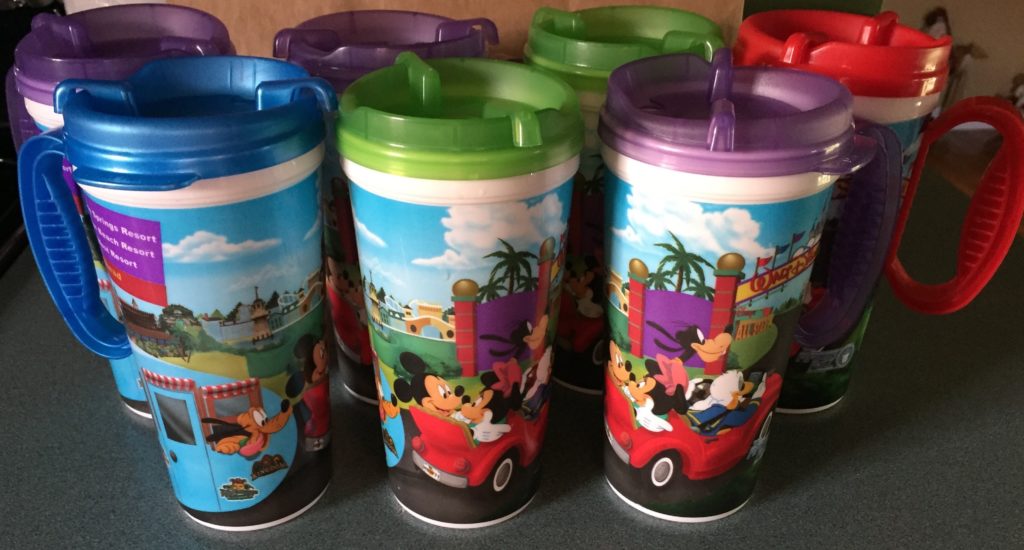 If you are planning a vacation to Walt Disney World and you will also be buying the Disney Dining Plan, the mugs for your entire party will be included. If you do not buy the Disney Dining Plan, you can purchase the mugs separately. You can buy a mug anytime during your stay. (The water parks have a different refillable mug program.) Many people wonder if the refillable mugs are worth the cost. Let's review.
Pros
Bottomless~~There is no limit to how much you can drink with a refillable mug. It is bottomless. The only caveat is that there is a short amount of time that you will have to wait between refills, but it is only a minute or two. Just like everything else, drinks at Walt Disney World are expensive. The refillable mugs can save you money. There is a good selection of drinks, too. You can quench your thirst with more than just the basic sodas.
Refill at Any Resort~~You can refill your mugs at any of the refilling stations no matter which resort you are staying at.
Great Souvenir~~What a great souvenir to remind you of your trip! You know that you will continue to use the mug once you return home. Not only will it save you money on drinks, but it serves a double purpose by being a souvenir, too.
Your Choice of How Many Days~~The program allows you to purchase a mug for one, two, three days or for the length of your stay (up to 14 days). If you will be in a park all day for 3 out of 5 days, you can buy just for those 2 days. Purchasing by the number of days that you will be primarily outside of the parks helps you to save money in the long run, because you do not have to pay for days where you are not going to use the mug all that much.
Anyone Can Buy It~~While you may not benefit from this as much as a resort guest would, anyone can buy the refill mugs. If you're staying off property but plan to spend the day exploring the resorts, you can buy a mug and drink all that you want.
Purchase a Refillable Cup Instead of a Mug~~Don't want to take home the souvenir? The food courts sell refillable cups that will also work with the Rapid Refill system. There is a RFID chip on the bottom of the cup. This allows you to know how many refills and time you have remaining. A refillable cup is not good for a full day like the souvenir mugs and the number of refills is limited.
Plans Change~~The RFID technology makes it easy to change your mind. If you purchased one day, but then realize how great it is and figure how it could benefit your other days, you can add days. If you did not include the mugs in your original plan, they can be added in and no need to buy a new mug when your plan runs out. A cast member can update the mug for you.
Cons
Invalid at All Theme Parks~~The Rapid Refill mugs are only good for water from the drinking fountains in the theme parks. You can fill them up at your resort before you catch your transportation to your park of choice. Keep in mind that you will then have to carry them around without the ability to refill them until you return to your resort or visit another resort. The Rapid Refill program is expensive. If you are not in a location to be able to refill your mug, you are still spending the money as if you are.
A Pain to Carry~~With all of the walking and waiting in line, let's add another chore to our day in the theme parks. If you have one child, carrying one mug is more than enough. Can you imagine carrying more than that? Don't forget the remnants left in mugs that finds its way out of the mugs and into a bag, stroller pocket, backpack, etc. Sitting around at a resort is doable, but who wants to carry them all day in the parks? We all know who ends up having to carry them and/or keep track of them……MOM!
Not So Convenient to Refill Station~~It is not exactly convenient to get to a refill station. You cannot fill up at the theme parks, you are tired and everyone is thirsty. But, you want to get your money's worth by refilling, which is why you bought the mug to begin with. Unfortunately, you have to walk quite a distance just to refill all the mugs, which you have probably dropped a few times along the way. You refill all of the mugs. Wait, then you discover how much bigger (heavier) they are in your tired hands for the long walk back to your room. (Learn that lesson by experience.)
Good by Calendar Day~~The days are calendar days and not 24-hour periods. Each day expires at midnight. If you fill up your mug for the first time at 11:59pm, that counts as your first day. If you purchase the mug for less than your entire stay, do not fill up until you know that you will get a full day's worth of drinks.
Size of the Mugs~~My first thought was that maybe I could fill my mug at my resort before I leave for the park for the day. NOT!! The inside of the mug is not going to hold enough to keep you hydrated throughout the day. The mug is big enough for a meal, sitting in your room or a relaxing time by the pool.  So, who is going to hold all of these full mugs while you walk around the parks and go on rides?
Summary
If you plan on spending a lot of time at the resorts, it is a good deal. If you will be mainly at the parks, it is not worth it unless you want a great souvenir!