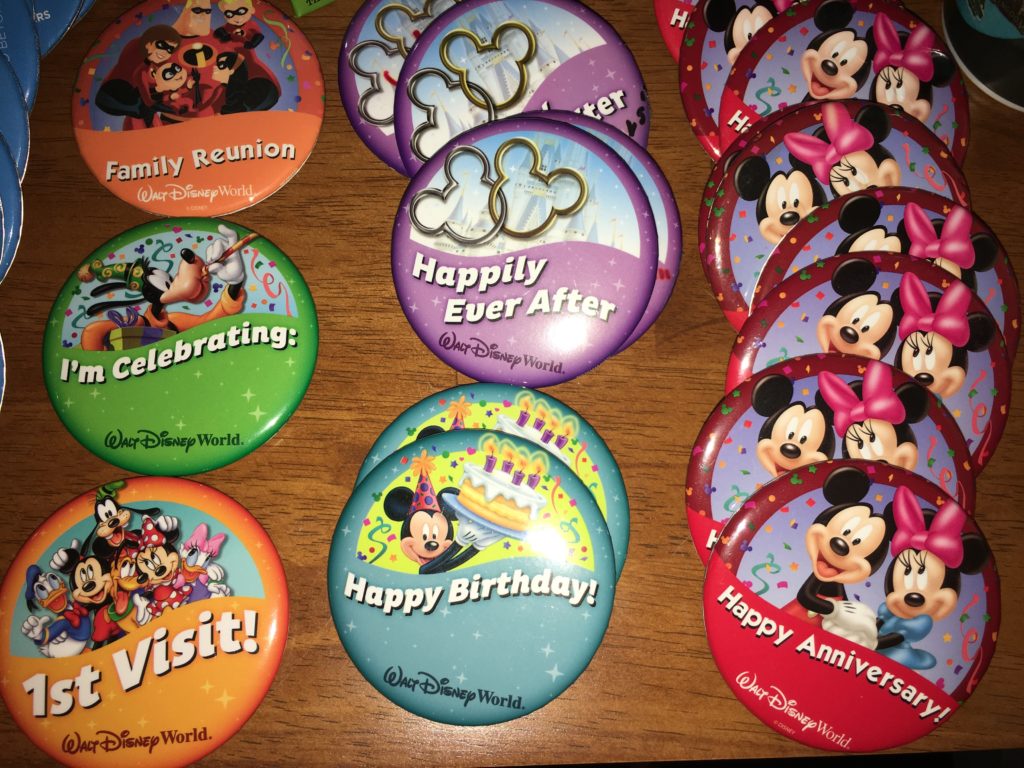 Yes, there are free things at Walt Disney World. Do not faint! Here are a few fun, free items at Walt Disney World.
Water
As I have said in "7 Things You Need To Know About Disney World", walk up to any quick service restaurant and request a cup of water. There is no excuse to be dehydrated when free water is just a few feet away.
Celebration Buttons
Upon arrival to your resort, you will be given a special button if you told Disney you were celebrating something like a birthday, first visit, etc. If you are not staying on property, you can ask for a button when you enter a theme park. Cast Members and other guests take notice of these buttons and you will be congratulated all day on your celebration.
Mickey Stickers
Cast Members hand out fun Mickey stickers to guests. There are a variety of stickers that have different, themed costumed Mickeys. (Temporarily Suspended.)
Autograph Cards
These cards are sometimes given out by special characters who do not have time to sign autographs. They make a great collectable. (Temporarily Suspended.)
Limited Edition Buttons
When Disney movies debut at the AMC Theater in Disney Springs, there will often be Cast Members handing out special limited edition buttons, pins and stickers. Many of these are given out to anyone in the area of the theater. There are some that are only for those purchasing tickets.
Ghirardelli Chocolate
Samples are handed out at the Ghirardelli Store in Disney Springs every day. Due to the Florida heat, you should enjoy it right away. (Temporarily Suspended.)
Goofy Glaciers
Goofy's Candy Company in Disney Springs allows you to sample flavors of Goofy Glaciers to cool yourself down. These are some of the best ice concoctions in Walt Disney World. (Temporarily Suspended.)
Park Games
There are games that you can play in the parks that provide you with many free things to enjoy in that park and to take home with you. Animal Kingdom has the Wilderness Explorer's club that takes you through learning experiences in Animal Kingdom. You earn badges as you go that are added to your handbook. (Temporarily Suspended.)
Magic Kingdom has two games. The first one is Sorcerer's of the Magic Kingdom. They provide you with a map, a key card and a new set of cards each day you enter the Magic Kingdom. You play an interactive game trying to defeat Disney Villains by using your spell cards. The second game is A Pirate's Adventure, Treasure of the Seven Seas. Guests can enlist to play, receive their instructions and a pirate map. Once they complete the tasks on the first pirate map, they may return to enlistment headquarters and get another of the set of five maps in total and complete as many as they like. The maps are yours to keep. (Temporarily Suspended.)
Epcot has a game called Perry's Adventure. It's an interactive game played with Phineas and Ferb. Agent P tries to foil the plans of Dr. Doofenshmirtz. Epcot has Kidcot stations where kids of all ages can choose a fan that looks like Agent P to color. They take their fans to each country in World Showcase and have the Cast Members write their names in their language. (Temporarily Suspended.)